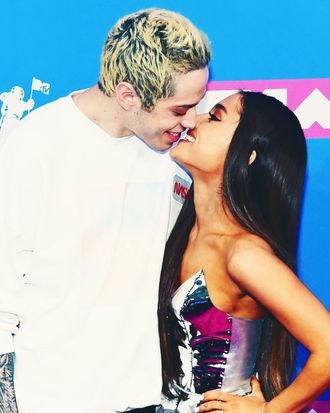 Grandavidson.
Photo: Nicholas Hunt/Getty Images for MTV
Ariana Grande and Pete Davidson aren't shy about kissing in public. Unsurprisingly, they are also not shy about talking about it in public.
In an interview with Nicki Minaj on her Apple Music Beats 1 Queen Radio show, Grande had lots of adjectives to describe her first kiss with Davidson. Those included "so sick" and "so dope."
"It was so cute," Grande added. "He asked my permission to kiss me."
She also said "it wasn't too naughty of a kiss," but also that it was "really sweet" and "really sexy."
Let the grand displays of affection keep rolling. Let's hope every kiss is as dope as the first.