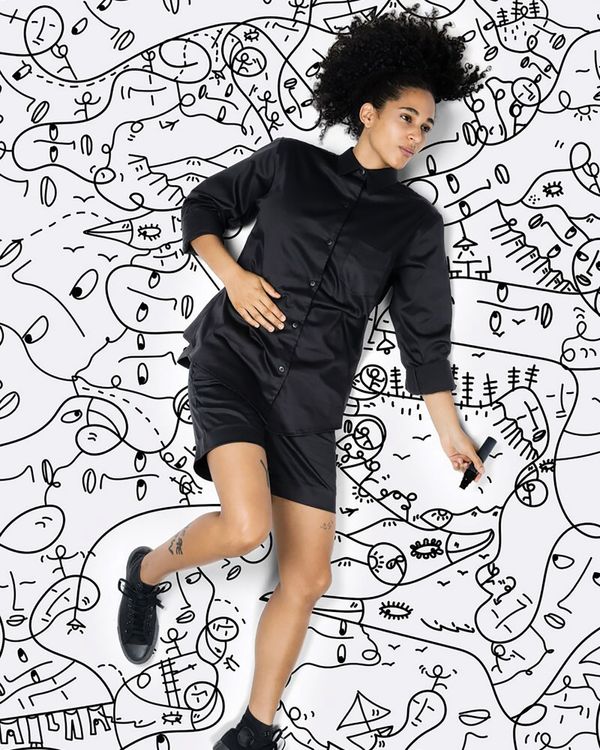 Shantell Martin doesn't rest. "Just give me a pen, and I'll make something," the multimedia artist says. Between collaborations with Kendrick Lamar — with whom she delivered a 75-minute performance at Miami's Art Basel — and brands like Tiffany and Puma, she is in the constant process of creating worlds.
On September 5, Martin will begin a three-month residency at Manhattan's 92nd Street Y, where visitors can experience her unique large-scale line drawings in an exhibit called "Why Now," on view until December 9. To accompany the exhibit, on November 18 she will give a performance that blends music, spoken word, and visual art; and at a November 30 event, she'll be in conversation with Broad City's Ilana Glazer.
Born in London, Shantell has spent over two decades working as a visual artist, teacher, and lecturer at esteemed institutions like MIT and NYU's Tisch School of the Arts. Her work bridges the divide between performance art, technology, and the everyday experience, drawing from conversations and communities to build immersive worlds. "In my art, I'm doing what I love: exposing the process of how I create and inviting people into that," Martin says. "It gives all of us much more of a connection, and my audience has more of an experience with me. I don't lose magic, I only gain when people become a part of it."
"Why Now" opens on September 5 at the 92nd Street Y, and is on view until December 9.