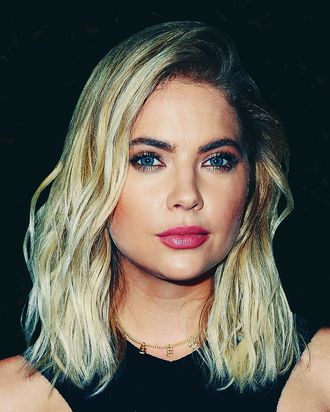 Ashley Benson.
Photo: Jon Kopaloff/FilmMagic/Getty Images
There were plenty of plot holes and inconsistencies in the Pretty Little Liars series, but I must admit the one I fixated on most was Ashley Benson's character Hanna Marin's hair. It would drastically switch back and forth in length, and yet there was nary a mention of Hanna's newfound interest in wearing a different set of extensions to school every day. This week however, the public finally learned that the Freeform series was covering up another murder that had nothing to do with A: the murder of Benson's real-life hair. In a recent interview with Elle.com, she reveals:
"I bleached my hair so much during season three and it fell right off and you couldn't even tell! I got a call from Warner Bros. like, 'You need to do something with your hair,'" and I'm like well, duh, I'm bald! Bleaching my hair was my biggest regret."
This is just the latest report in a spate of television series' attacks against famous hair that have been taking place this summer. Just last month, Riverdale star Lili Reinhart shared the frightening revelation that Betty Cooper's perky ponytail had been plotting a drawn-out and painful death for her hair. "We just started adding extensions to my ponytail, because my hair has gotten so damaged and fried, quite frankly, from being heat styled every day," she told PopSugar in an interview. She's invested in hair masks and treatments but it was all for naught: "I feel like at the end of the show, I'll have to shave my head," she admits.
Back in May, Game of Thrones star Emilia Clarke had to put her hair to rest, chopping the remains to chin-level after losing length to Daenerys Targaryen's bleach butchery. For previous seasons, Clarke resorted to wigs à la Keira Knightley, but for the show's final season, she fell into the fatal trap and ultimately sealed her hair's fate. (Warning: the following photo is kinda painful.)
Another alarming factor to take into consideration: neither men nor eyebrow hair is safe. Earlier this year, 13 Reasons Why actor Miles Heizer, who plays an on-trend bleach-blond Alex Standall, grammed the following caption: "I'm glad everyone's enjoying 13 Reasons Why! I don't have a scalp anymore but it was well worth it." And we mustn't forget when Reinhart's Riverdale co-star KJ Apa revealed to Vulture that the biweekly bleaching and dyeing he underwent to mimic Archie's signature red cost him a devastating loss:
It was really painful the first and the second time I got it done because they do my eyebrows as well. They ended up bleaching my eyebrows, and I had two holes — they burnt into my skin. I was like, "Oh, my, we've got to sort this out." Luckily, I haven't had that again, but yeah, it was pretty gnarly.
Chilling. It's 2 p.m. — do you know where your hair is?