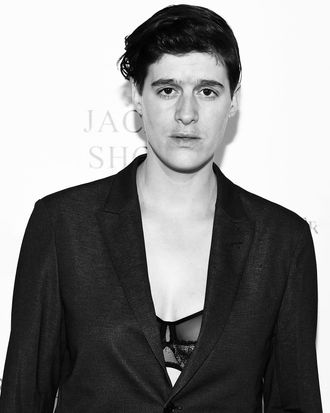 Rain Dove.
Photo: Dave Kotinsky/Getty Images for Blue Jacket
Last week, the New York Times reported that actress and #MeToo advocate Asia Argento made a deal to pay off a former co-star, Jimmy Bennett, who accused her of sexually assaulting him as a minor. Argento eventually denied the allegations, but texts purporting to contradict her denial were soon leaked. On Monday, actress and activist Rose McGowan revealed that the texts in question were between Argento and model Rain Dove, whom McGowan is currently dating. Now, Dove is speaking out about why they decided to release the text messages.
In a Wednesday morning statement, released to the Cut through a publicist, Dove confirmed that the text exchange was between them and Argento, and that they reported the messages to police. Dove said in the statement:
While the conflict may feel murky- the situation is cut and dry. An individual admitted to sexual engagement with a minor (according to the age stated by California) which is an illegal act that can qualify as statutory rape. As well as such they admitted to receiving continued nude images without reporting/blocking the account/written rejection/or action. When the individual made it clear that they were not going to be honest about their engagement, I turned in materials that may contribute towards an honest investigation. All victims deserve justice. Justice can rarely exist without honesty.
Dove, a gender nonconforming model and an advocate for both the LGBT community and the #MeToo movement, went on to say that in sexual assault cases, it is "important to support and believe the victim — while also allowing for due process." Dove continued that, knowing they feel this way, Argento thus reached out to them for assistance in helping to clear her name, and that she "declar[ed] full innocence" at the time.
Dove says they took Argento though the process of how she'd be able to prove her innocence: "Proof that [Argento] didn't pay off this individual, proof that they didn't approve any payments if they had occurred, proof that they had indeed been harassed and rejected all sexual sexual advances through action or verbally, proof that they hadn't engaged sexually via an alibi, and a few more," according to the statement. Ultimately, however, they say they realized Argento did not have the "intention" to properly rectify the situation. Dove said they read Argento's statement denying any sexual contact with Bennett before she provided it to reporters, and that reading it was "painful."
"In it they were dismissive of the victim, put down the integrity of the reporter Kim Severson utilizing the guilt power of the opinion of their deceased former partner Anthony Bourdain, and robbed all parties of their truth," Dove wrote. "I had hoped that that narrative would change after our conversation but unfortunately the piece went straight to press."
The model and activist went on to say that, after Argento's denial was released, they spoke with McGowan and then took the text messages — in which Argento allegedly admitted to sleeping with Bennett — to the police. Dove then addressed Argento's allegations of extortion by Bennett, and of sex abuse against Harvey Weinstein.
I would also like to address allegations that Jimmy Bennet extorted Asia Argento by saying simply- keep both actions separate. They are two different accusations and all victims of a crime deserve justice. All guilty parties must be honest. I would also like to state that the case between HW and Asia Argento is separate from Jimmy Bennet's case and that Asia deserves the same respect in that case that Jimmy should receive in this one. Their choice to lie to the NYT does not mean that they are lying about HW. Their accounts for that case should be held separately and fairly.



Dove also ended their statement by saying that "we can not let this single case crumble the power and momentum of a movement that has saved so many."