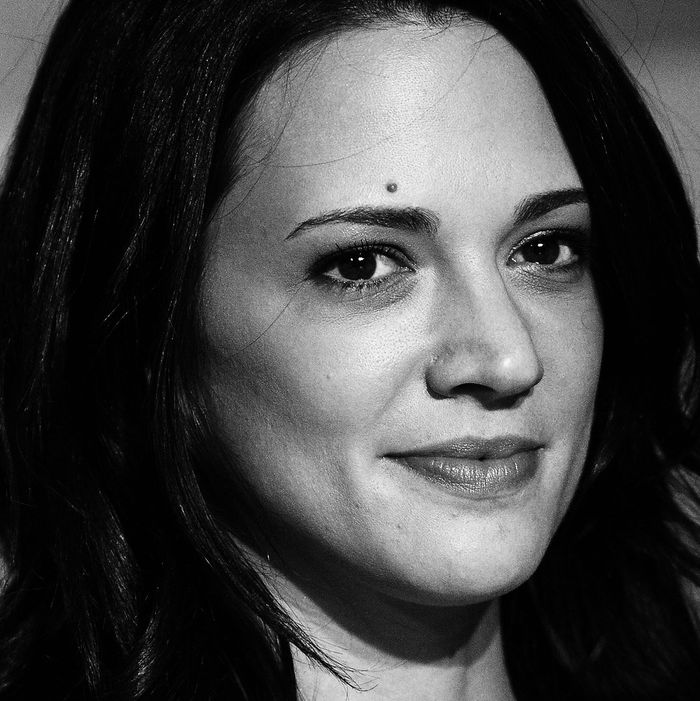 Asia Argento.
Photo: Eric CATARINA/Gamma-Rapho via Getty Images
The recent news of Asia Argento's alleged sexual abuse and payout has us all reeling. On Sunday, the New York Times reported on actor Jimmy Bennett's claims that the actress, whom he viewed as "a mentor and a mother figure," had sex with him when he was a minor, and later paid him off with a $380,000 settlement. Argento initially denied the claims, saying that Bennett was attempting to extort her and that her late ex-boyfriend Anthony Bourdain gave him the money to help him financially. However, a TMZ report from today contains alleged text messages from Argento indicating that the sexual encounter did occur.
As anyone following the #MeToo movement knows, Argento was one of the first women to accuse Harvey Weinstein of sexual assault and has since become an outspoken leader in the fight against sexual harassment and abuse. But what does it mean when one of the movement's leaders becomes implicated in the exact kind of abuse she has spoken out against? How are we supposed to respond?
In lieu of a think piece, here's a conversation between the Cut's president and editor-in-chief Stella Bugbee and senior culture writer Anna Silman, as they attempt to wrestle with their complicated feelings about this difficult story.
Stella Bugbee: One of the things I find most interesting is how these allegations trigger a lot of fears in me. It's the same sickening feeling I have when I hear about false rape accusations; they are rare but devastating to all future accusers. I feel like screaming, "THIS DOESN'T MEAN ALL RAPE ACCUSATIONS ARE FAKE!" It makes me simultaneously defensive and despairing. Will people who are anti-#MeToo use this as an attempt to prove it was all just bullshit?
Anna Silman: It's difficult to come to terms with. It reminds me of other #MeToo cases that have been particularly tough to reckon with — like Al Franken, for example. I've thought a lot over the past few months about how people like Pamela Adlon and Jill Soloway must feel watching men they are close to be accused of terrible things, and how hard it is putting one's ideals into practice when it comes to someone you care about. Or as Stephen Colbert said, "Everybody believes in accountability until it's their guy, and make no mistake, Les Moonves is my guy." I think for a lot of feminists and outspoken #MeToo supporters, Asia Argento is "our" girl. We have a vested interest in her narrative. But I think what we've learned in the past year is that a lot of these narratives are not as simple as victim and perpetrator, good vs. evil.
Bugbee: I've always found her narrative to be one of the more complicated ones in this whole story, but we forgave her all of it — explained away her ongoing relationship with Harvey, were able to empathize with her because of her honesty, because of the grayness of her feelings and her willingness to step out in front and take all the heat. And then we spent the whole year in a collective scream about these things, and now we find out one of the loudest victims of all was perhaps also guilty. It's disorienting.
Silman: I'm a bit ashamed to admit that my first impulse was to defend Asia and try to justify or explain away the accusations, just as Chris Kraus recently did with Avital Ronell. I know that impulse is hypocritical, but I did feel it welling up inside me, and now I am forced to confront what that means. I think this story also forces us to reckon with to what extent #MeToo is a movement for women — and to what extent it's a movement for victims, because I think they are two related but separate things. There are certainly systemic factors at work when it comes to male figures of power abusing and harassing their female employees, which has been the bulk of the #MeToo accusations, whereas this story feels like more of an outlier. Though maybe it's not. Maybe I'm deluding myself.
Bugbee: I think this is an outlier in the same way I think Harvey was an outlier. Most of these cases are not this extreme. I find myself angry at Asia. Do you?
Silman: I find it hard to be angry at her.
Bugbee: Because you still think of her as the victim of Harvey?
Silman: Yes. And because her boyfriend, Anthony Bourdain, just died. That certainly complicates this story in a really queasy way, like the fact that she invoked him in her statement and said the settlement money was his idea.
Bugbee: That weirdly made me less inclined to trust her. It felt very odd. Like Kevin Spacey coming out. A distraction. A way to gain sympathy.
Silman: Agreed. Another case this reminds me of in some ways is that of Junot Diaz. Right after Diaz penned his piece for The New Yorker about being sexually assaulted as a child — and before allegations of abuse were levied at him — I interviewed male survivors of childhood sexual abuse on how abuse had affected them throughout their romantic lives, and it was really heartbreaking to see how that primary trauma can radiate outward and affect so many people. It also really showed how victims of sexual abuse often go on to have very distorted views of sex and relationships. But obviously no amount of personal trauma can excuse a victim who goes on to use his or her own power to abuse another person. So at that point, do we write them off completely?
I think this is such an interesting case study for supporters of #MeToo, because I can also really see my own biases and sympathies at work in the way I initially responded to this. The child sexual abuse that Diaz suffered was arguably much "worse" (if you want to play that game) than what he was later accused of (verbal harassment, forced kissing), and yet because he conforms to such a familiar archetype — powerful literary hypocrite who treats women like garbage — my first response was not one of sympathy. I still think of him as a perpetrator, and feel no amount of personal trauma justifies the way he acted. Whereas with Asia, I feel differently because I feel a degree of kinship with her. I feel the impulse to excuse or pardon her because of what she has been through, or to write her off as an exception. I think that's an impulse that needs to be quashed, but also one that we can't ignore, because it's human. Also, if I'm feeling this way, there's definitely a lot of other people feeling this way too. It's like Rebecca Traister said — this is a messy, uncontrollable movement: "'70s-style, organic, mass, radical rage, exploding in unpredictable directions."
Bugbee: I do not feel the need to defend her specifically at all. I feel defensive of #MeToo, but not of her. I don't want to see this all undone by her specific case. I think this is the problem with getting too invested in single narratives.
Silman: Right, I feel two ways: If we care about #MeToo, we have to care about the specifics of every narrative. But I also agree with you, this risks undoing everything.
Bugbee: I think it's okay to say, "Wow, you're too compromised to be a meaningful part of this movement now, and for the sake of it, you must go." Hypocrisy undoes so many causes because the opponents are just dying for things like this to latch onto and invalidate each other. Real progress means admitting that the people you support are also capable of being terrible.
Silman: My inclination is to acknowledge that people are complicated, and capable of both great and terrible things simultaneously.
Bugbee: Of course! But there have been many casualties this year who have not been given a pass. I'm not arguing that they should have been, but by that logic I also feel that Argento shouldn't be given a pass.
Silman: I'm deeply disappointed by her hypocrisy. She is perpetuating the exact kind of abuse she was speaking out against. And then there's the fact that it appears she lied about it. I don't think she should get a pass.
Bugbee: The lying is very damning. It's the thing that really just pushes it over the edge for me. Can we trust anything she said? I hate even having to ask that because it feeds the terrible fire of distrust around all the legitimate cases that people come forward with. Do you think this will force some reconsideration of people who were brought down in the initial months of #MeToo?
Silman: I don't know. I hope it will expand the conversation around the abuse of power and sexual dynamics. And like I said before, I think we need to sit with the uncomfortable feelings this provokes instead of pushing them away. We need to wrestle with the ambiguities and contradictions taking place around #MeToo, or else it threatens to turn the movement into a caricature that won't be taken seriously. I think it behooves us to be transparent about what it feels like when it's "our guy" who gets accused — because everyone who has been accused is somebody's guy. Better to acknowledge the discomfort than pretend it doesn't exist. I worry that there's going to be cases even more painful than Asia Argento, ones that exist in more of a gray area than this one does, and we have to be ready for that.
Bugbee: If the facts are that she had sex with a minor who thought of her as a mother figure, paid him off, and then lied about it, it doesn't seem very gray to me. What's gray about it all is that we wanted to believe in Asia Argento. And now we can't. And that means we have to think about who else and what else we can't believe.
Silman: I think we just need to acknowledge that the entire way our society deals with sex and gender is screwed up, and there are so many victims and so much pain and so many ricochet effects, that it calls for a very far-reaching conversation that extends beyond what has been happening in the last year.
Bugbee: Actively wrestling with ambiguities means listening to men a lot more than we were willing to do in the past year. It's hard to admit that we might not be able to count on the kind of emphatic clarity of the initial "reckoning" as it became known. For it to work, empathy must extend in all directions. This feels like a new chapter in the conversation.