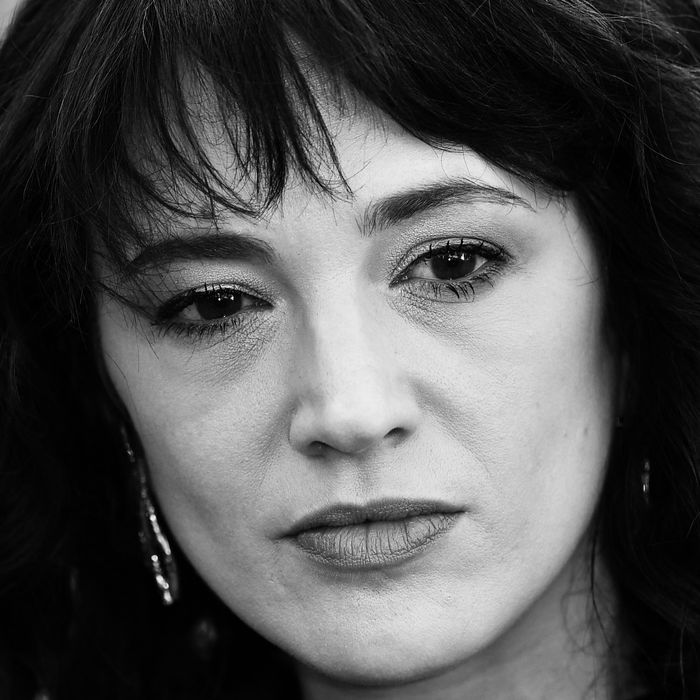 Asia Argento.
Photo: Anadolu Agency/Getty Images
On Sunday night, the New York Times reported that actress and #MeToo activist Asia Argento made a deal to pay $380,000 to a former co-star, Jimmy Bennett, who claimed she sexually assaulted him as a minor. In a statement released on Tuesday, Argento said she "strongly" denies and opposes the allegation.
In the report, the Times wrote that that Argento agreed to pay Bennett — who played her son in the 2004 film The Heart Is Deceitful Above All Things — to settle his claim that she sexually assaulted him in a California hotel room when he was 17. (The age of consent in California is 18.) The Times stated that Argento and Bennett had taken several selfies together on the day of the alleged assault, including one in which they are in bed together; according to the report, Bennett gave the copyright of this last photo to Argento as part of their agreement. The report further stated that Argento's late boyfriend Anthony Bourdain helped her "navigate the matter."
Journalist Yashar Ali shared Argento's response to Bennett's allegation on Tuesday. In the statement, Argento wrote that she was "deeply shocked and hurt by having read news that is absolutely false. I have never had any sexual relationship with Bennett." She continued:
I was linked to him during several years by friendship only, which ended when, subsequent to my exposure in the Weinstein case, Bennett – who was then undergoing severe economic problems and who had previously undertaken legal actions against his own family requesting millions in damages – unexpectedly made an exorbitant request of money from me. Bennett knew my boyfriend, Anthony Bourdain, was a man of great perceived wealth and had his own reputation as a beloved public figure to protect.
Argento went on to invoke Bourdain several times, saying that he "insisted the matter be handled privately and this was also what Bennett wanted." She said that Bourdain was "afraid of the negative publicity that such person, whom he considered dangerous, could have brought upon us." Argento added that Bourdain "personally undertook to help Bennett economically, upon the condition that we would no longer suffer any further intrusions in our life."
Read the full response below.