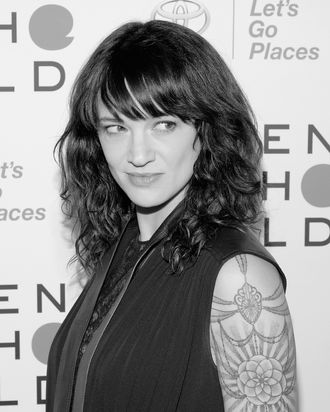 Asia Argento.
Photo: Matthew Eisman/Getty Images
In the wake of sexual assault allegations against Harvey Weinstein, Asia Argento (one of the producer's many accusers) called for an end to nondisclosure agreements that silence the voices of victims. According to the New York Times, Argento also refused to have her own accuser sign such an agreement.
On Sunday night, the Times reported that Argento paid $380,000 to an actor and musician accusing her of sexual assault. Jimmy Bennett, now 22, claimed in documents seen by the Times that Argento assaulted him in a California hotel room in 2013 — when he was only 17 and she was 37. (The Times notes that the age of consent in California is 18.) Argento had played Bennett's mother in the 2004 film The Heart Is Deceitful Above All Things.
An attorney for Bennett sent a notice of intent to sue in November — just one month after Argento's allegations against Weinstein were published. "His feelings about that day were brought to the forefront recently when Ms. Argento took the spotlight as one of the many victims of Harvey Weinstein," Bennett's attorney wrote in the notice.
The Times reports that under the agreement between Argento and Bennett, the actress agreed to pay $380,000. A letter written by her attorney, Carrie Goldberg, stated that the agreement didn't prevent either party from discussing it. Per the Times:
"Ultimately, you decided against the non-disclosure language because you felt it was inconsistent with the public messages you've conveyed about the societal perils of non-disclosure agreements," she wrote to Ms. Argento.
Goldberg added that Bennett "could theoretically tell people his claims against you. However, under this agreement, he cannot sue you for them." The letter also stated that Bennett could not post an image of himself and Argento. (The Times was sent a selfie of Argento and Bennett in bed together).