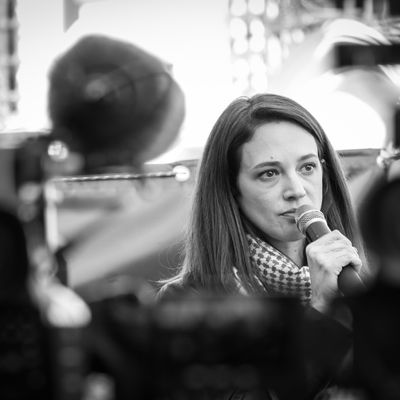 Asia Argento.
Photo: Andrea Ronchini/NurPhoto via Getty Images
On Sunday night, the New York Times reported that actress and outspoken #MeToo advocate Asia Argento recently settled claims that she sexually assaulted actor and musician Jimmy Bennett in 2013, when he was still a minor. The report includes a graphic description of the alleged assault — and its claims need to be taken absolutely seriously. But the severity of the claims should not detract from the #MeToo movement.
Argento has been a vocal proponent of #MeToo since the fall of 2017, after the movement was reignited following the sexual assault allegations against Hollywood producer Harvey Weinstein. The Italian actress was one of dozens of women who accused Weinstein of assault (with details of the alleged 1997 attack published in a bombshell report by the New Yorker) — and she joined a chorus of voices helping to usher in the #MeToo reckoning that has seen several other powerful, lecherous men accused of harassment and assault.
The assault allegation against Argento is hard to read. According to the Times, she had starred as Bennett's mother in the 2004 film The Heart Is Deceitful Above All Things, and he viewed her as a "mentor and a mother figure" until the 2013 assault, which occurred in a California hotel room when he was only 17. (The age of consent in California is 18.) The Times report also states that Argento asked Bennett's family member to leave so she could be alone with him in the hotel room, and that the actress gave Bennett alcohol before the alleged assault. She reportedly agreed to pay Bennett $380,000 in a settlement, though she never had him sign a nondisclosure agreement.
Since the story came out, some have insinuated that the accusation undermines the #MeToo movement and many women have expressed fear that the story will be used to bolster the sense that victims of sexual assault are not to be trusted.
It's imperative that we do not let this be used as an excuse to derail the #MeToo cause. Asia Argento is both a survivor and perpetrator of sexual assault — but that doesn't mean her accusations against Weinstein should be dismissed. At the same time, Argento's advocacy also does not mean that she should not be held accountable for her actions. If anything, the new allegation shows the pervasiveness of sexual violence and the need for a comprehensive approach to addressing it.
Since last fall, we've seen many alleged sexual abusers — including Matt Lauer , Mario Batali, and Charlie Rose — lose their jobs and suffer public backlash after the accusations surfaced (only for them to soon after appear to plot their comebacks); we've seen Bill Clinton finally be faced with tough questions about his abuse of power against Monica Lewinsky. There's also been the launch of a vital new initiative and legal defense fund, Time's Up, that actively works to help women fight sexual harassment and retaliation in the workplace. It appears that the #MeToo movement may soon touch other industries, as new stories continue to emerge: In May, it was revealed that the initiative has provided legal support to women working at Walmart and McDonald's.
What Argento is accused of doing is awful — Bennett claims the trauma of the "sexual battery" has led to emotional damage and lost wages — and it's shattering to see an advocate be accused of the very thing she was fighting against. If anything, though, this is an opportunity for the movement to show its true priorities: amplifying the voices of survivors, no matter how discomfiting their claims might be, and working to create a world in which no person is too powerful or deemed too unimpeachable for accountability.