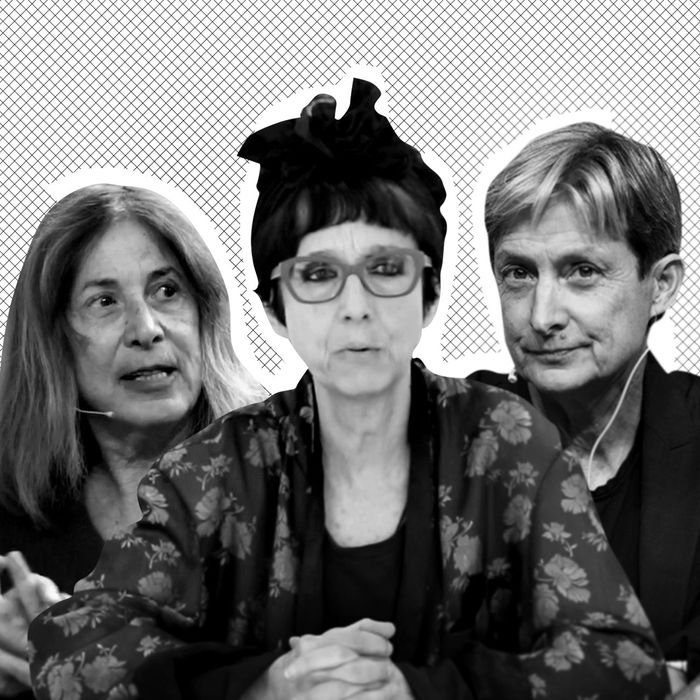 Chris Kraus, Avital Ronell, Judith Butler.
Photo: Louisiana Channel/Youtube, European Graduate School Video Lectures/Youtube, Getty Images
In September 2017, New York University launched a Title IX investigation into Avital Ronell, an internationally acclaimed professor who had been accused of sexual harassment by her former graduate student, Nimrod Reitman. This past summer, the news circulated among academics, compelling a number of prominent authors and feminists to publicly — and in some cases, surprisingly — vocalize their support of Ronell.
It wasn't until August, though, when the New York Times reported that Ronell had been found responsible for sexual harassment, that the story exited the insular world of academia and became another flash point in the ongoing debate about consent, power, and harassment: As the Times' headline put it, What Happens to #MeToo When a Feminist Is the Accused?
Who is Avital Ronell?
Ronell, 66, is a renowned professor of German and Comparative Literature at New York University. Before being suspended for the coming year, she had taught at NYU for more than two decades. She was also the academic adviser to Nimrod Reitman, a 34-year-old visiting fellow at Harvard who started his Ph.D. program at NYU in the fall of 2012. Reitman claims that Ronell's predatory behavior toward him began months before his first day of classes. (Ronell is a lesbian, and Reitman is a gay man.)
What are the allegations against her?
In spring of 2012, Reitman says that Ronell asked him to spend a few days with her in Paris, where he says she put his "hands onto her breasts, and was pressing herself — her buttocks — onto [his] crotch," and then kissed him all over; he claims that incident repeated itself later in the evening as well. During Hurricane Sandy in October 2012, Reitman says that Ronell, whose power had gone out from the storm, repeatedly showed up to sleep as his apartment. Throughout his academic career, he alleges, Ronell "subjected [him] to sexual harassment, sexual assault, and stalking." In emails that Reitman provided to the Times, Ronell referred to him as "Sweet cuddly Baby," "cock-er spaniel," and "my astounding and beautiful Nimrod."
In his 56-page lawsuit, Reitman also claims that Ronell "asserted complete domination and control over his life," and would threaten his Ph.D. career.
Ronell has vehemently denied harassing Reitman. "Our communications — which Reitman now claims constituted sexual harassment — were between two adults, a gay man and a queer woman, who share an Israeli heritage, as well as a penchant for florid and campy communications," she told the Times. A few days later, she told the Associated Press that the emails were merely affectionate, not sexual, and called them a "gay-coded" correspondence. A lawyer for her also told the Times she "denies all allegations of sexual contact in their entirety."
Who's taking Ronell's side?
In June, iconic queer theorist Judith Butler, Slovenian philosopher Slavoj Žižek, self-described "practical Marxist-feminist-deconstructionist" Gayatri Spivak, and other academics sent a letter to NYU officials in support of Ronell, who they maintained was an innocent women who was being unfairly subjected to malicious accusations.
"We have all seen her relationship with students, and some of us know the individual who has waged this malicious campaign against her," reads the letter, which was published by Brian Leiter on his philosophy blog. "We deplore the damage that this legal proceeding causes her, and seek to register in clear terms our objection to any judgment against her. We hold that the allegations against her do not constitute actual evidence, but rather support the view that malicious intention has animated and sustained this legal nightmare."
After the Times article came out, NYU professor Lisa Duggan also weighed-in, in a blog post in which she close-reads the email correspondence between Ronell and Reitman like a text, arguing that it could be interpreted through the lens of "queer intimacy," where "romantic language does not necessarily signify sexual desire." "Forms of intimacy well outside the parameters of heterosexual (and, homosexual) courtship and marriage are commonplace among queers who not clearly separate friendship and romance, partnership and romantic friendship," she argued.
Columbia University professor and respected queer theorist Jack Halberstam promoted Duggan's piece on Twitter, calling it "a clear, politically savvy take."
The latest prominent voice to join the discourse is author Chris Kraus of the feminist cult-classic I Love Dick, who wrote an impassioned blog post on Sunday accusing Reitman of feigning "helplessness" and being opportunistic. "Those outside this world don't seem to realize that Reitman — or any Ph.D student at NYU — is hardly an innocent," she wrote.
As criticism of Ronell's supporters mounted, some began to walk back on their original statements. On Monday, Butler issued an apology to the Chronicle of High Education, saying that, while she can only speak for herself, the letter should not have "have attributed motives to the complainant."
"Our aim was not to defend her actions — we did not have the case in hand — but to oppose the termination of her employment as a punishment," she wrote. "Such a punishment seemed unfair given the findings as we understood them. In hindsight, those of us who sought to defend Ronell against termination surely ought to have been more fully informed of the situation if we were going to make an intervention."
This can't be going over well…
It's not! Those critical of Ronell's supporters — the high-profile ones in particular — say they're behaving hypocritically and their arguments are fundamentally misguided, since they fail to take into account the power differential that exists in academia between a professor and their advisee, as well as between a world-famous theorist and a grad student. They're also appalled by the way in which Ronell's supporters have tried to discredit Reitman.
"The Ronell cheerleaders," Jo Livingstone writes at The New Republic, "are almost universally intellectuals who once upon a time considered themselves cultural outsiders — queer theorists, postcolonial scholars, feminist thinkers. They act as if they are a politicized coalition defending a vulnerable person, without the awareness that they are now the tenured, the published, the well-off, the powerful: precisely the demographic that #MeToo proposes to investigate."
At the Chronicle of Education, Corey Robin unpacks the extreme power differential between Ronell and Reitman, arguing that sex was just one facet of the way in which Ronell seems to have behaved inappropriately. "Depending on whom you believe, Ronell's claims on Reitman may or may not have been for sex, but the sex was only one part of the harassment," he writes. "Ronell's largest claims were on his time, on his life, on his attention and energy, well beyond the legitimate demands of an adviser on an advisee."
In the past few days, the backlash has increased — and at this point, shows no sign of slowing down.