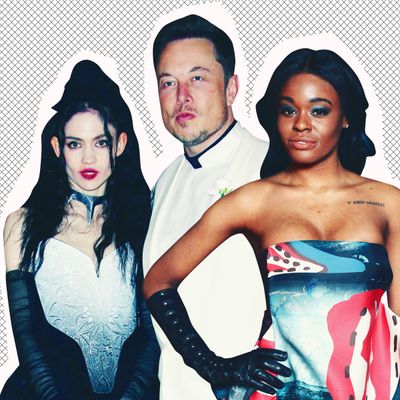 Grimes, Elon Musk, and Azealia Banks,.
Photo-Illustration: Getty Images
In an age where the internet is our greatest source of pain and entertainment, a feud between a billionaire tech guy who can't stay off Twitter, his space-loving pop star girlfriend, and a female rapper known for getting into elaborate tiffs with other celebrities is not entirely shocking. But what led to the very online showdown between Azealia Banks and Elon Musk (featuring Grimes), that included accusations of Musk tripping on acid? Here's everything we know about the most 2018 ordeal to happen on the internet.
Grimes and Azealia Banks were supposed to make music together.
According to Azealia Bank's Instagram Story from Sunday night, Grimes invited Banks over to Musk's house in L.A. to finish music they were working on together — in June, Banks announced via Instagram that she and Grimes were working together on Banks's second album. But when she got there, Banks says Grimes was busy comforting her boyfriend, and that Banks spent a whole weekend hanging out alone in Musk's mansion.
Why was Azealia Banks left alone? And why was Grimes comforting Elon Musk?
Elon Musk announced via Twitter that he was considering making Tesla a private company with shares starting at $420, which was a pretty big business announcement. Azealia Banks claimed on Instagram that he had tweeted the decision while tripping on acid, and that after the fact, he was freaking out because he had not secured the necessary funding to take the company from public to private.
Banks claims that Grimes spent the weekend trying to console her billionaire, union-busting boyfriend. Banks described the experience as something like an "episode of Get Out." She also posted that she believed that Grimes flew her to L.A. because Musk and Grimes wanted to have a threesome with her.
So that's the whole story?
As with many of Azealia Bank's online posts, things only got weirder. She continued to post on her Instagram Story on Monday morning, calling Elon Musk a "beta male" who "took steroids and got hair plugs to convince himself he was an alpha." She also called him a "caveman" and an "alien."
In a conversation with a Business Insider reporter, Banks claimed that while she was at Musk's house, she overheard him on the phone, panicked and "scrounging for investors." She also said "I could run Tesla better than he does," and added that she thinks Grimes and Musk are "so pitiful."
What does Elon Musk and Grimes have to say about all of this?
According to a report by Gizmodo, Elon Musk claims he has never met Azealia Banks, and a Tesla rep said that the New York City rapper's story is "complete nonsense." Grimes has not released a public statement on Banks's claims.