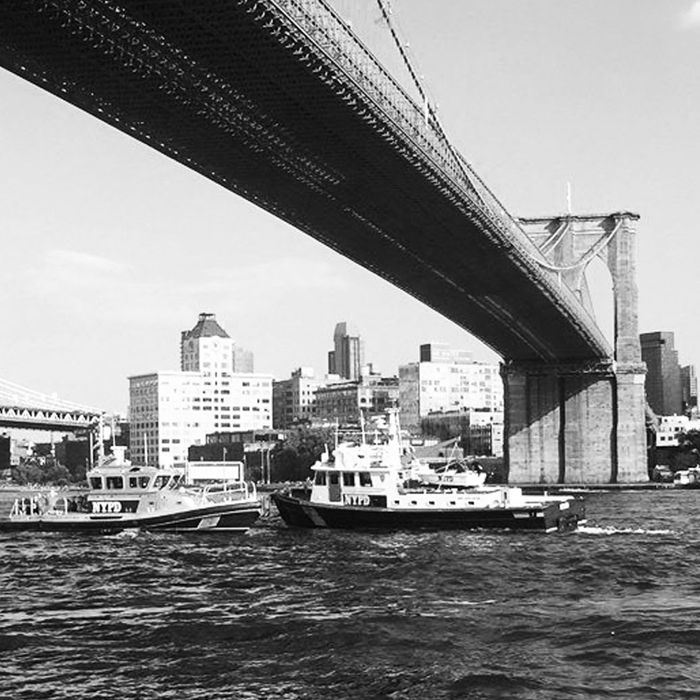 NYPD investigating the incident.
Photo: Twitter/NYPD Special Ops
A family from Stillwater, Oklahoma, on vacation in New York City, made a horrifying discovery on Sunday: Sitting on a bench overlooking the East River, they were disturbed to find the body of a baby boy floating, face-up in only a diaper, near the Brooklyn Bridge.
Diana Campbell initially spotted the infant floating by a pile of debris about 30 feet offshore, prompting her husband, Monte, to recover the body from the water's edge. But efforts to revive the child — first through CPR, then hospital treatment via ambulance — proved futile. The baby was pronounced dead at NewYork-Presbyterian Hospital/Lower Manhattan late Sunday afternoon.
"I thought it was a doll," Monte told the New York Times. "911, they put me on hold, and at that point I decided I had to go make sure. So I handed the phone to [Diana] and got the baby."
Upon seeing the baby, a passerby hailed two nearby cops. Though they agreed there was no pulse or respiration, police said the infant's body showed no signs of traumatic injury.
Investigators are still trying to identify the boy, who they concluded was about 8 months old. A medical examiner will determine the exact cause of death.
Diana Campbell, who took photos and video footage of the scene to help identify the infant, added, "Someone knows that child."