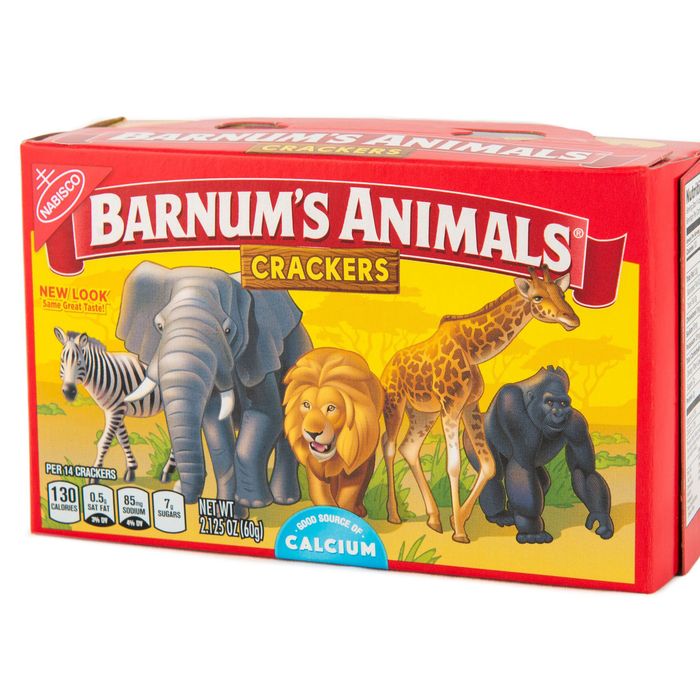 The new animal-crackers packaging.
Photo: Nabisco
If you, like me, were a child once, you probably recognize the packaging for Barnum's Animals crackers, with its beloved mascots — whom you are about to funnel into your mouth in sugary "cracker" form — trapped behind bars in circus boxcars atop the words "good source of calcium."
But after 116 years of captivity, the animals have finally revolted. (Or at least, that's how I like to imagine it.) The company has decided to release the caged beasts in its new packaging depicting the wild animals in their natural habitat.
According to Kimberly Fontes, a spokesperson for the brand's parent company, Mondelez, the redesign was a move to continue to make the brand relevant for years to come. It was the result of a big push by PETA, which has put pressure on the use of animals in circuses for decades.
"Big victories can come in small packages, and no matter where we look, we find new evidence that people are embracing compassion for animals like never before," PETA said in a statement, saying they participated in discussions about the redesign. "The new box for Barnum's Animals perfectly reflects that our society no longer tolerates caging and chaining exotic animals for circus shows."
But the seemingly innocuous move has created a rift among the internet. Many praised Barnum's Animals, but others took jabs at PETA for taking issue with the mistreatment of fake animals:
Some, however, thought they could've gone further.
I, for one, am now in the mood for animal crackers, and am just relieved they haven't changed the recipe. Roam free, wild ones! Everything the light touches is your kingdom.