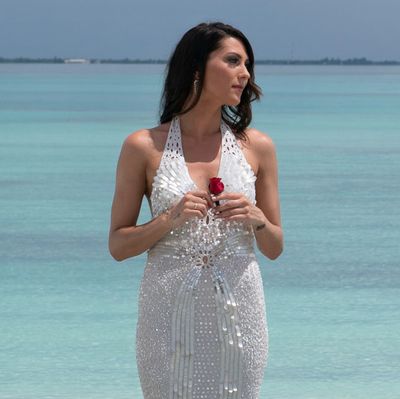 Obvious spoilers to follow.
We had a feeling this season of The Bachelorette spoiled itself by the very first week, but now we have the official rose confirmation.
Looking like a beautiful angel on a beachfront property in the Maldives, this season's leading lady, Becca Kufrin, decided to reject Blake Horstmann and ultimately accept a proposal from Garrett Yrigoyen, a medical sales rep from Nevada, in the emotionally charged Bachelorette finale. (The tears, the pep talks, the slow dockside walking!) After letting Horstmann down gently and doing her best to explain the rationale — "quite honestly, I pictured this moment with you standing here the entire time for so long" — Yrigoyen monologued quite a lovely proposal before getting down on one knee:
From honking up the driveway in a minivan filled with orange slices and diapers, to fly-fishing in the backyard, I knew that you and I shared something very special with one-another. We were building our dream-home out of sand, talking about our kids, talking about a future. I knew that I loved you so much and I wanted to spend the rest of my life with you and wake up next to you and have you in my arms every single day in my life. I love you so much. Not just now, but forever. You're my world.
And with that, Kufrin told her first-impression-rose suitor how much she loved him, too. Aw!
The couple's engagement comes weeks after it was discovered, thanks to former Bachelor contestant Ashley Spivey, that Yrigoyen was a noted purveyor of racist and offensive memes on social media — "liking" memes that mocked transgender people and liberal women, among others. (Kufrin is a self-professed liberal who voted for Hillary Clinton and participated in the Women's March.) Yrigoyen later released a statement of apology, taking "full responsibility" for his social-media history. "I have learned an extremely valuable lesson and am taking steps to grow, become more educated, and be a better version of myself," he wrote. "I am not perfect, and I will never be anywhere close, but now I will always be more informed and aware of what I am liking and supporting, not just on Instagram, but in life." Kufrin publicly supported Yrigoyen after the news broke. "Is it fair to judge someone based on who they follow, what they like?" she said.
Congratulations, mazel, etcetera, to the happy couple.