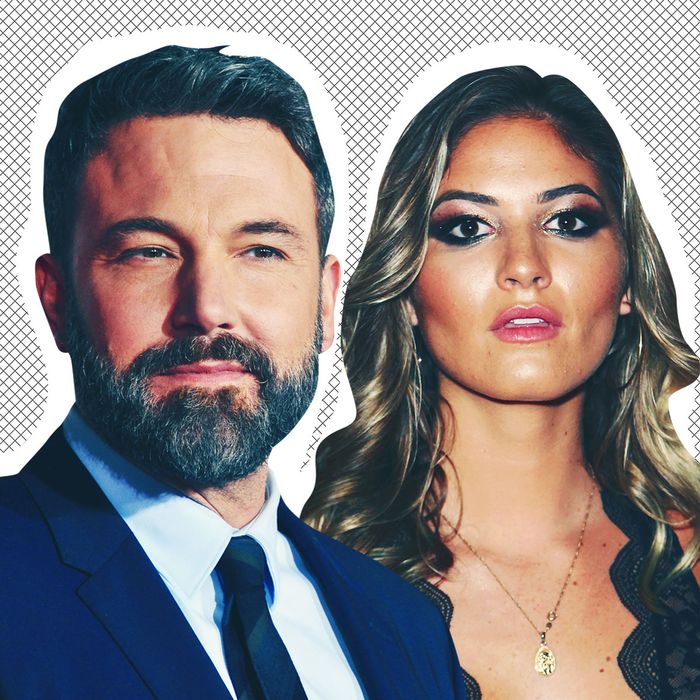 Ben Affleck and Shauna Sexton.
Photo-Illustration: Getty Images
On Thursday night, Ben Affleck and one of his beloved stained T-shirts were photographed leaving Nobu restaurant in Malibu — after having dinner with Playboy model Shauna Sexton, TMZ reports. Hmm, what's going on there?
Affleck has been publicly dating Saturday Night Live producer Lindsay Shookus since announcing his split from Jennifer Garner (but the relationship reportedly started a lot earlier than that). And although Affleck and Garner have yet to actually get divorced, last anyone heard, he was still with his partner in iced coffee, Shookus.
But as People points out, Affleck was seen leaving Nobu on Thursday night with friends, including 22-year-old Shauna Sexton, who was named Playboy's Miss May 2018. You can see the pics here. Affleck had celebrated his 46th birthday the previous day with his children, sans Shookus — and she wasn't spotted at his dinner with Sexton either.
In fact, TMZ notes that Shookus and Affleck haven't been seen together in almost a month. On top of that, a moving van was pictured at Affleck's home on August 9 — and TMZ points out that it's unclear whether someone was moving in or out.
So, as People asks, does this mean Affleck is newly single? Or was he simply enjoying a nice dinner with a group of friends that included a Playboy model and is currently drinking iced coffees with Shookus as we speak? Guess we'll just have to wait and see.