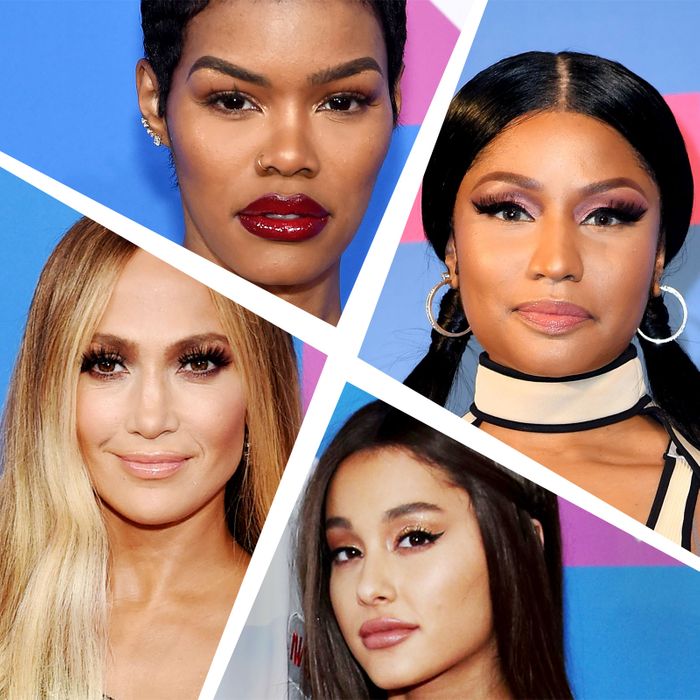 Buckle up, folks: The MTV VMAs 2018 are here. While the majority of awards ceremonies feature red carpets full of famous people looking fine and dandy, the VMAs famously deliver a wide range of beauty looks that usually require further inspection if not a brow raise. The situation on tonight's fuchsia carpet was no exception. Here are the 13 hairstyles and beauty looks that caught our attention.
Best Hair Accessory: Ariana Grande
Ariana Grande left her signature ponytail at home and opted for straight, Cold Brew hair, but she brightened things up with a bottle blond as her date, this season's hottest accessory.
Sleekest Sleek Ponytail: Keyshia Ka'Oir
Extremely long and straight ponytails are all the rage this year. This butt-skimming one managed to float across the fuchsia carpet without a single flyaway.
Best Human Embodiment of the Word 'Glowy': Jennifer Lopez
J.Lo walked away with tonight's Vanguard Award, but she gets extra points for radiating light through both her face and her hair.
Most Dimensional Statement Lip: Teyana Taylor
Statement lips are a dime a dozen at these sort of things, but Teyana Taylor's exceeded expectations by being ombre, glossy, and the perfect balance of both red and berry at the same damn time.
This half-up half-down hairstyle complete with a tasteful Bump-It bump is just begging for a tiara to sit atop those wispy bangs.
Best Middle Part: Winnie Harlow
Love 'em or hate 'em, center parts are here to stay. Have you ever seen one so precise?
Who knew it would it would take a 14-year-old to finally prove to the world that lower lashes really can make your eyes pop!
Best Baby Hairs: SZA
Curls were few and far between tonight, but SZA's beautifully laid edges helped fill the void.
Wettest Wet Hair: Rita Ora
The wet-hair look is a tricky one to wear in real life, (just ask your post-shampoo salon reflection) so props to Rita Ora for dunking her hair before hitting the fuchsia carpet.
If this is considered the 2018 version of the Mom Haircut, we'll take it.
Best Reminder That It's Still Festival Season: Dascha Polanco
Polanco's lashline-to-brow-bone-to-hairline makeup look is a friendly reminder that there's no time like the present to channel your inner Detroit.
Most Convincing Case for TERF Bangs: Amandla Stenberg
Pikachu tried her best to get everyone on board with this puzzling bang trend, but perhaps the task of integrating divisive hairstyles is best left to the cool teens.
Best Pigtails: Nicki Minaj
We're long overdue for a pigtail revival and Nicki Minaj's take on the aforementioned long ponytail trend is an excellent place to start.
Most Emo-Hair: Bebe Rhexa
Let's be real, we all tune into the VMAs for nostalgia's sake. Rexha's choppy Emo bang is taking us straight back to the My Chemical Romance/Taking Back Sunday days, and we thank her for that.