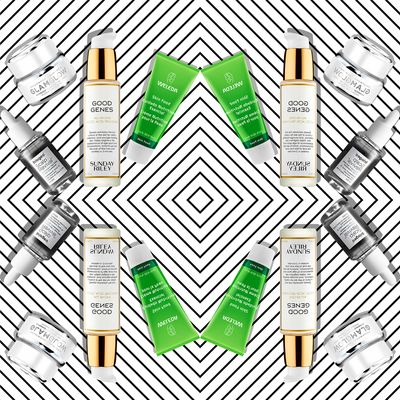 Sure, Kylie's 21st birthday party was last night, but Dermstore is throwing an equally, if not more, exciting bash right this very second. The beauty retailer's massive Anniversary Sale starts today, lasts until August 19, and everyone is invited. Just use the code BIRTHDAY at checkout to get up to 25 percent off products from over 400 participating brands. Here, a list of some of the best skin care and hair products we spotted to get you started.
No bubbles, no problem. This gently coconut-scented bath soak may not foam up, but it does give you incredibly soft skin.
There's a reason this green tube makes an appearance in many a product roundup. This extremely rich (yet never greasy) natural moisturizer can be used from head-to-toe. You'll be especially glad to have it handy when the colder weather rolls around.
Sadly, scalps often go neglected in even the most well-intentioned hair-care routines. This cooling, scalp-stimulating treatment is a must for anyone dealing with dandruff, partaking in a product-heavy styling routine, or pounding hair-growth gummies with less than impressive results.
At any given moment, up to four Cut members are using this exfoliating liquid from honorary cosmetics cop Paula Begoun in their beauty routines. It's a known pore-de-gunker that makes your skin smoother and clearer without burning.
Whether your dark circles and puffy under-eyes are the result of a lax curfew, genetics, or too much time spent staring into the void, this hydrating cream-gel hybrid absorbs super quickly and instantly cools on contact, so you can apply and carry on with all the other issues of the day.
Squash any fear of a sneaky overnight pimple or freak breakout with this cult-favorite clearing mask. It will vacuum any undesirables (bacteria, excess oil, last night's makeup) out of your face and make for great Insta-Story content while doing it.
This best-selling gel moisturizer is ideal if you still need to switch to a lightweight lotion for the summer.
If there ever were a time to splurge on a serum formulated by a renowned New York dermatologist, it's now. This potent overnight treatment targets fine lines, hyperpigmentation, and dullness. It's basically hours of missed beauty sleep in a bottle.
Vitamin C is a known skin brightener. If you have stubborn acne marks that just won't fade, this is your best bet. Rinky dinky Vitamin C serums generally cap out at a concentration of 10 percent or less, but at 20 percent, this is one of the strongest on the market, professionally formulated to make sure it won't nettle your skin.
Yes, you read that right. Good Genes is on sale. If you want to get into face acids but are worried about skin irritation, this gentle lactic acid serum is for you. It's universally beloved for delivering soft, glowy skin for even the most delicate of skin types.
If you buy something through our links, New York may earn an affiliate commission.