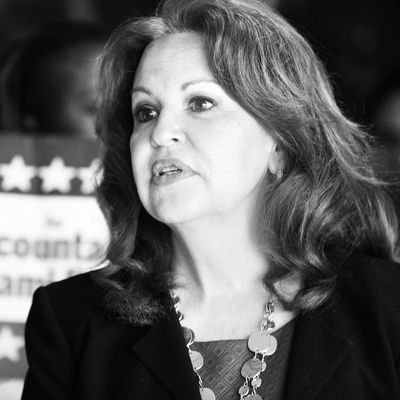 Bettina Rodriguez Aguilera.
Photo: Roberto Koltun/TNS via Getty Images
Bettina Rodriguez Aguilera is one of nine GOP candidates campaigning to represent Florida's 27th Congressional District in Congress. She currently runs a business that trains women from other countries to run for office. Before that, she was a City Council member for the Miami suburb Doral, a social worker, and the ombudsman at the Miami-Dade county manager's office. And even before all that, when she was still a child, she says she was taken aboard an alien spaceship by tall, blond extraterrestrials.
Although she's considered a long shot to take over Congresswoman Ileana Ros-Lehtinen's seat, last weekend Rodriguez Aguilera received a significant endorsement from the editorial board of the Miami Herald, which acknowledged she was an "unusual choice," but said her extraterrestrial experiences are a "nonissue." Rodriguez Aguilera agrees, and in an interview with the AP this week, said she does not want to be defined by her abduction.
"It has nothing to do with what I have done. It happened when I was 7 years old," she said. "I am so proud of the Herald and what they did."
The candidate has never wavered from her story, which she shared in an interview with the Spanish language station América TeVé back in 2009.
According to the candidate, she entered a spaceship manned by a trio of blond alien giants (two female, one male), and "there were some round seats that were there, and some quartz rocks that controlled the ship — not like airplanes." She said that they told her that Africa is the center of the world's energy, and that Florida's Coral Castle is actually an Egyptian pyramid. She also claimed to have communicated with the extraterrestrials several times since her initial abduction.
As the Herald put it, however, she also has "boots-on-the-ground ideas and experience" that would serve her well in Congress. And who knows, with the new Space Force, having an in with some aliens might not be a bad thing.