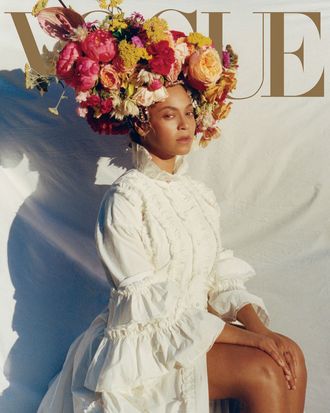 Beyoncé on the cover of
Vogue
.
Photo: Vogue
Nothing about Vogue's September issue — which features Beyoncé on its cover and appeared Monday morning after days of rumors — is typical.
Tyler Mitchell is the magazine's first-ever black cover photographer at just 23 years old. Instead of an interview, Beyoncé did an as-told-to feature with Jezebel's culture editor, Clover Hope, written in her own words. And instead of wearing fall fashions — as September cover stars typically do because that's what they're trying to sell — Beyoncé wore a Gucci wedding dress from the brand's cruise collection, which is technically "pre-spring." In other words, she wore a dress from the future. Of course she did.
Mitchell's shoot with Beyoncé took place outside London in a dilapidated English country home. On set, former Vogue fashion director Tonne Goodman worked with one of Beyoncé's creative directors, Kwasi Fordjour, as well as her usual team of stylists. (Again, this is not how things are usually done.)
In addition to Gucci, Beyoncé also wears a look from Louis Vuitton's cruise collection, a shimmering gold Valentino cruise dress, a voluminous Dior cruise gown, and a custom white suit by menswear designer Wales Bonner. On an alternate cover, she also wears a ruffled dress by Alexander McQueen.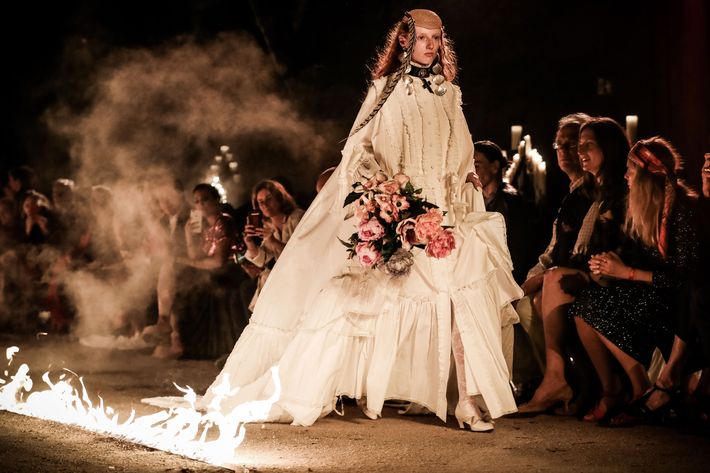 The Gucci look set the tone, though. The brand's cruise show, which took place in a cemetery, featured large bouquets of flowers, hence Beyoncé's headpiece. The wedding dress was also the finale look, and the model wore it down a flaming runway. Needless to say, Beyoncé's interpretation was a bit more optimistic, but just as much a statement.