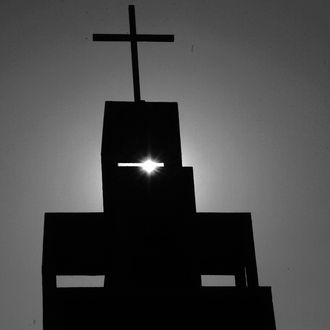 Photo: ATTILA KISBENEDEK/AFP/Getty Images
Bill Hybels, the former pastor of the Willow Creek Evangelical Church, has been accused of sexual harassment by a woman named Pat Baranowski, according to a new New York Times report. Baranowski is not the first woman to accuse Hybels of sexual misconduct, though her allegations are the most severe.
Baranowski, now 65, was hired by Hybels in the 1980s as an assistant at his growing Illinois evangelical church, and invited her to live with him and his family. While his wife and children were away for a trip in 1986, Hybels allegedly asked to give Baranowski a back rub.
According to the Times report, Baranowski then endured two years of unwanted touching, inappropriate comments, and other forms of sexual harassment — including an instance when Hybels asked her to watch porn with him.
Hybels, in a statement to the Times, denied that any of the allegations made by Baranowski are true. "I never had an inappropriate physical or emotional relationship with her before that time, during that time or after that time," he wrote.
In April, Bill Hybels announced an early retirement from his role as pastor of the church. The announcement came after a Chicago Tribune report that detailed years of complaints and allegations against the pastor for unwanted touching, inappropriate comments, and once, an unwanted kiss.
Hybels denied the allegations, but announced to his congregation that for he would move his retirement date up by six months. He reportedly called the allegations "flat out lies" and said that he "placed myself in situations that would be far wiser to avoid. I was naïve."
Two pastors of Willow Creek Church have issued statements saying that they believe the women who came forward with allegations against Hybels.
Before his retirement, Hybels not only led a megachurch, but served as a spiritual adviser to Bill Clinton during the scandal involving Monica Lewinsky, and has written several books on leadership