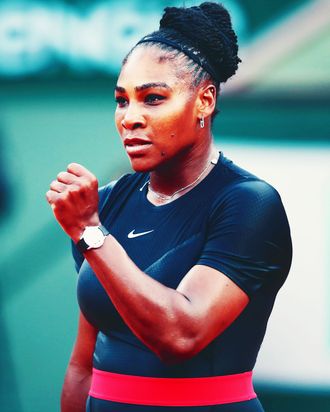 Serena Williams in her "catsuit."
Photo: Clive Brunskill/Getty Images
Last week, French Open officials proclaimed that they will ban Serena Williams from wearing her Nike bodysuit at the tournament next year, saying "we've gone too far," and "one must respect the place and the game." According to Williams, the compression suit was designed to prevent blood clots, which almost killed her last year after she gave birth to her daughter.
Billie Jean King, widely hailed as one of the other top female tennis players of all time, took to Twitter to call out the Open. "The policing of women's bodies must end," she wrote. "The 'respect' that's needed is for the exceptional talent Serena Williams brings to the game. Criticizing what she wears to work is where the true disrespect lies."
King was not alone in her criticism. Others cited racism, as well as sexism, as impetus for the Open's new dress code, which seems to exclude Williams' outfit, but not much else. One Twitter user pointed out that the white tennis player Anne White wore a catsuit in 1985 with no consequence.
"Serena has a natural body type," Abi Ishola, editor-in-chief and founder of Beyond Classically Beautiful, told the Chicago Tribune. "She's strong, she's solid, she's beautiful and there's nothing wrong with her body. For someone to say her wearing a certain thing is disrespectful to a place or game is discriminatory. It's not like she's bringing some contraband, she's bringing herself."
But Serena doesn't seem to be bothered. "I feel like if … they know that some things are for health reasons, then there's no way that they wouldn't be okay with it," she said in a press conference. She added that she wouldn't be wearing the outfit again, joking, "When it comes to fashion, you don't want to be a repeat offender."