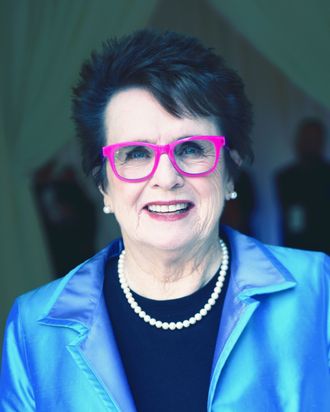 Billie Jean King.
Photo: Vivien Killilea/Getty Images for Clase Azul
In May, Serena Williams sported an all-black bodysuit while competing during the French Open — and it was recently revealed that the tournament decided to ban such outfits afterward. Once she heard the news, tennis legend Billie Jean King took to Twitter to call for the end of the "policing of women's bodies."
On Tuesday night, the Cut caught up with King at the U.S. Open, during a benefit for the CityParks Foundation's tennis programs. The Battle of the Sexes icon explained to the Cut that the ban falls in line with the tennis world's long history of controlling and criticizing women's attire — often while not holding men to the same strict standards.
"Fashion usually dictates our freedoms. Back in the old days, our wrists and our ankles couldn't be shown," King told the Cut. "If you look at the fashion every decade in women's tennis — which is very small — you can see how things are changing in the world for us: our freedoms, the way we dress, which is good. But I never hear them really talk about how the guys should dress."
King explained that, likewise, she has long noticed that women tennis players have been asked questions about their outfits, appearances, and sexuality during press conferences — while male tennis players are not faced with the same questions. "They were all guys," King said of the journalists at the press conferences she'd attend. "I didn't have one woman reporter at the Bobby Riggs match. Not one. I used to go into a press conference and it was always all men."
King went on to say that she saw some of the male reporters who weren't as "enlightened" appear to become more informed as their conversations continued over the years. "That's why you need to see each other; that's why you have diversity and that's why you have inclusion," King explained. "Because if you have 8,000 new opinions versus one or two, you just hear more things and you start to help each other learn and start thinking about each other.
She continued, "Usually the dominant group thinks the subdominant group is invisible — that's usually white men. … I don't want to generalize, but they've done studies on this. But the subdominant group knows a lot about the dominant group, because they have to navigate their world: You work for them, you have to navigate daily. So what we want to do is bring people together so that there's no hugely dominant group or not hugely subdominant group."
King added that "women shouldn't be a subdominant group." She told the Cut that she wants girls to stop being taught to be perfect, echoing Chimamanda Ngozi Adichie's We Should All Be Feminists, while boys are taught to be brave. She said, "We just have to be self aware … That's what makes greatness and makes us the best we can be. But we're not perfect, and men are not always brave."
The morning following our interview, news broke that another female tennis player, Alizé Cornet, was criticized for trying to fix her shirt (which she had inadvertently put on backward) during the U.S. Open on Tuesday. Just as she did with Serena Williams, King immediately took to Twitter to stand up for the athlete (while also plugging her collaboration with Adidas):