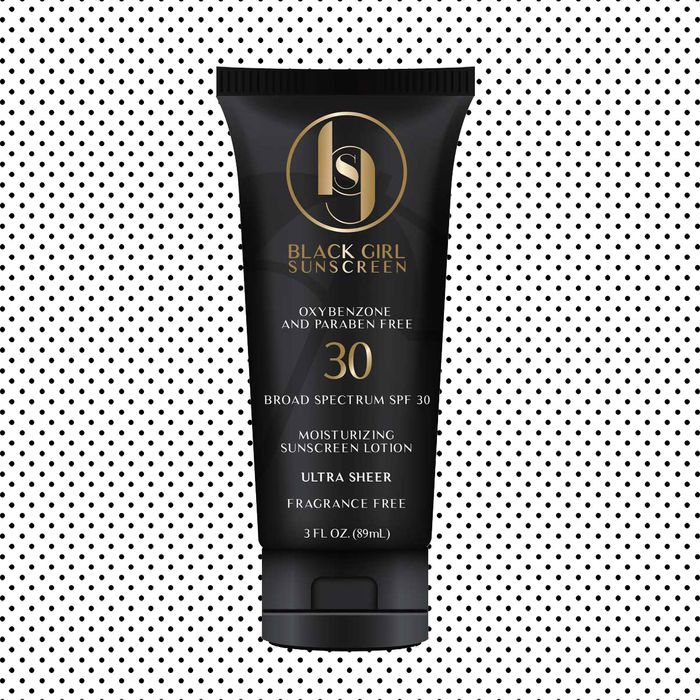 Photo: Courtesy of Black Girl Sunscreen.
Applying sunscreen is a chore. On my list of Activities That Aren't Annoying, it ranks way down there with flossing (both the dental hygiene practice and the Fortnite dance). But what is even worse is that after expelling the effort — slathering, rubbing in, rubbing in some more — the chore is unfulfilling. Such is the case for many people of color who have spent summers walking around with a weird, ghostly, sunscreen tint, wondering what it'd be like to be able to protect your skin without looking like a stock photo demonstrating sunscreen application.
Shontay Lundy wondered the same thing, and last year, created a solution. The result was Black Girl Sunscreen, an SPF 30 designed by a woman of color (Lundy) with other women of color (like me) in mind: the formula is extra moisturizing, quick-absorbing (no more endless rubbing), and truly dries clear (no more odd tint). The product went viral this summer thanks to a Redditor who sang its praises. Now, Lundy, who is completely new to the beauty scene, is successfully shaking things up as newbies on the rise tend to do.
"The problem was just: Okay, sunscreen leaves that chalky white residue, right? And that's because companies didn't care about that. Larger brands just weren't checking for women of color, and it wasn't at the top of their list. It was more about protecting skin, so it didn't matter if the sunscreen made you look good or feel good."
Lundy knows first-hand it's hard not to feel self-conscious when sunscreens simply disappear on friends with lighter complexions. She believes sunscreen should straddle that line between skin care and cosmetics. "You put on red lipstick because you want to feel a certain way; you want to feel confident, or beautiful. I think sunscreen should do the same thing and Black Girl Sunscreen doesn't lose sight of that."
To create a sunscreen that not only feels good but looks good on darker skin tones, Lundy ditched zinc oxide and titanium oxide, the minerals known to leave that white residue. She also got rid of drying alcohols, and any fragrance. Instead, Black Girl Sunscreen's formula is "natural" and packed with ingredients you don't usually read on sunscreen labels: Shea butter, sunflower seed oil, aloe, jojoba, carrot juice, almond oil, avocado oil. Why? "The last thing you want is to be ashy. Period," Lundy states as I co-sign.
While the beauty industry has been known to discriminate, Lundy reminds me that the sun does not. "We started BGS with the goal of eliminating the white residue, but now we're onto bigger things; we're creating a legacy and shifting mindsets." Lundy's referring to her mission to continue the conversation around sun protection within communities of color, currently through an upcoming campaign with the Melanoma Research. "Yes, we have 'black doesn't crack,' but it still needs to be protected." And she's right. While fair-skinned people are at the highest risk for contracting skin cancer, the mortality rate for black Americans is much higher. According to the American Academy of Dermatology, white Americans have a five-year survival rate of 90 percent, while black Americans' are at 73 percent.
There are many things to credit for BGS's popularity this summer: The straightforward name ("I wanted women of color to know that this product is for them"), the strong packaging in an era of soft pastels and Millennial pink, the camaraderie of the on-going Fenty Effect. But most importantly, it delivers. "It does what it says it's going to do, and that's what people really want," says Lundy. My moisturized, film-free, sun-protected skin very much agrees.
If you buy something through our links, New York may earn an affiliate commission.