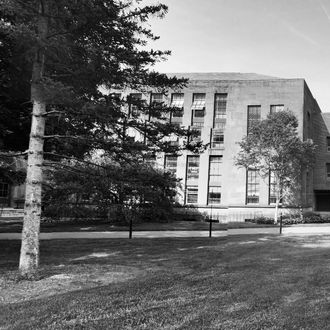 Smith College.
Photo: Google Maps
Looking for a little serenity in the middle of the workday, a black student at Smith College retreated to a campus common room for her lunch break — only to be approached by a campus police officer. Later, she would learn that another college employee had called the cops on her, with the justification that she "seemed out of place."
MassLive reports the student, Oumou Kanoute, has been working this summer as an assistant and residential adviser at the small private women's college. She detailed her experience on Tuesday and Wednesday in two Facebook posts; according to her account, the episode started when a white employee reported her to the police as a "suspicious black male." A video clip she posted shows the officer telling her that someone had called, "wondering why you were here." In a second clip, the officer apologizes to her.
"It's okay, it's just, like, stuff like this happens way too often," Kanoute responds.
In the post accompanying the clips, which has been shared over 1,000 times, she expressed her frustration with what had happened to her. "It's outrageous that some people question my being at Smith College, and my existence overall as a woman of color," she wrote. "No student of color should have to explain why they belong at prestigious white institutions. I worked my hardest to get into Smith, and I deserve to feel safe on my campus."
In a Facebook statement, Amy Hunter, the interim director of inclusion, diversity, and equity at Smith, said it had been an employee who called campus police on Kanoute, saying she "seemed to be out of place" in the building. "Campus police found nothing suspicious about the student's presence," Hunter wrote.
This incident is the most recent example of white people calling the cops on people of color who are simply going about their days. Earlier this summer, a woman called the police on Yale graduate student Lolade Siyonbola, who had fallen asleep in a common room while pulling an all-nighter ahead of finals. That same month, a woman in Rialto, California, called law enforcement on four black women who were renting an AirBnb in her neighborhood because they didn't wave to her.
In a statement sent to students, faculty, staff, and alumni, Hunter proclaimed that the college "does not tolerate race- or gender-based discrimination in any form."
"Such behavior can contribute to a climate of fear, hostility and exclusion that has no place in our community," she wrote. She also said that Smith will conduct an investigation of the incident with the employee who called the police on Kanoute, the school's HR department, and campus police.
Kanoute, meanwhile, is still blown away at the fact that she can't even eat lunch peacefully at her own college.
"I did nothing wrong, I wasn't making any noise or bothering anyone," she wrote on Facebook. "All I did was be black."
The Cut has reached out to Kanoute for comment.