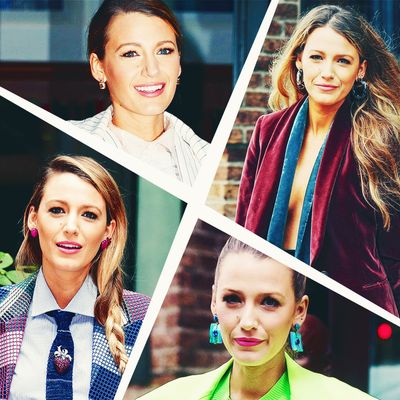 What does this mean?
Photo: Getty Images
Just when you thought the greatest mystery of our time had been solved, a new puzzle has appeared: Blake Lively is clearly trying to tell us something by relentlessly wearing extremely colorful pantsuits … but what?
Lively has been all over New York City to promote her film A Simple Favor. The movie is about a mommy vlogger (Anna Kendrick) whose best friend, played by Lively, wears a lot of pantsuits and then disappears. For each of her various press appearances lately, Lively has therefore been wearing pantsuits, presumably as a nod to her character but also in my opinion to send us subliminal messages, like a real-life Da Vinci Code.
Luckily, I saw the Da Vinci Code and I also read the book and I frequently wonder what really happened to the Romanovs, so allow me to use my Dan Brown–related skills to crack this case.
Mysterious Suit No. 1: Neon Green
First, let's take a look at the suit and matching knit shirt Lively wore the other day. Here, she's wearing the color neon green, and it can only mean one thing: Neon minus the "n" is … Neo, like Keanu Reeves in the Matrix, a movie that utilizes the "brain in a vat" thought experiment of contemporary philosophy. (Essentially, maybe we are all just brains in vats and nothing we experience is real.) So here, Lively is probably telling us not to trust our reality.
Mysterious Suit No. 2: Double Velvet
You probably assumed that Lively's double velvet outfit — yes, it is a velvet suit (with no shirt), with another velvet coat on top of it — in New York's unbearable heat wave was a nod to the fact that she has access to great air conditioning. But in reality, it is likely a plea for us all to stop global warming. How do I know this? Why, because she later takes off the top velvet coat to reveal that the velvet that lies beneath is actually a vest, not another coat! And she put her hair up in a pony tail! Cleary, she is showing that wearing double velvet in a heat wave is warm, and we should absolutely not allow the world to get any hotter.
Mysterious Suit No. 3: A Distraction
At this point in the promotion cycle, Lively obviously became aware that we were all close to cracking the case of her subliminal messages. She didn't want it to be so easy, though. So like a Darren Aronofsky film, Lively threw together a pantsuit that contained too many colors, too many lines for us to even think straight. But I see what she did there, even though I now have a headache and need to lay down for a while.
Mysterious Suit No. 4: More Lines, Less Colors
Here, Lively probably felt bad for triggering our painful headaches, so she still used a ton of lines, but less colors so as to be considerate. But the real meaning behind the suit? She wants us to know that she is not afraid that she will spill something on her suit.
Mysterious Suit No. 5: Casual
This suit's message is completely obvious: Lively wants the world to know that she is laid back and casual and super chill, even when wearing a suit. We get it, Blake!!!
Mysterious Suit No. 6: White on White on White
At Monday night's 2018 MTV VMA awards, Lively wore a white suit with a white button-up shirt that in my opinion buttons a little too high up and I hope she could breathe. At first glance, you might think her white suit is a sweet nod to the memory of the late writer Tom Wolfe. But honestly, this all goes back to the brains in vats theory. If that were to be the case, and nothing we experience is real, then it follows that we could all potentially be existing in some weird dimension full of nothingness. And what is nothing? Why, it's just everything. And white is the color that is made up of all other colors. So here, Lively is yet again reminding us not to trust reality. Thank you, Blake.