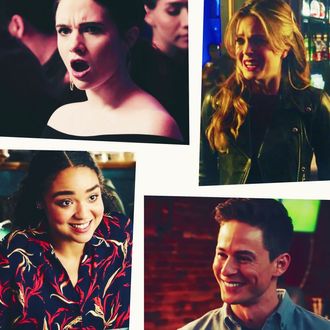 The Bold Type is an amazing and utterly ridiculous TV show about three young women who work at a fictionalized version of a Cosmopolitan-type magazine — Jane, Kat, and Sutton — and follows their highs and lows, both romantic and career-oriented.
Despite being executive produced by former Cosmopolitan and Hearst editor Joanna Coles (who also serves as inspiration for the fictional Scarlet's own editor-in-chief, Jacqueline), and presumably being written by people who have worked in journalism, or at least know people who have, the show has a … let's say, tenuous grasp on what working in media really looks like. And while The Bold Type is far from the first TV show to lend unrealistic glamour (and wealth) to the lives of 20-somethings in New York City, its contributions to the genre deserve recognition. This is a bat-shit insane show, and we love it.
Here are 11 of the most absurd things that happened this season.
When Ben Abruptly Switched Nationalities
When we met Ben, the handsome doctor first introduced as a hired model for Scarlet's "real men" photo shoot, he was very clearly two things: American, and into Sutton. Imagine our collective surprise when, in the very next episode, Ben suddenly spoke in a clear Australian accent, and was (successfully???) foisted on Jane, with whom he has no apparent chemistry or common interest. Apparently, it was revealed that directors initially had him try both accents, but actor Luca James Lee's natural Aussie twang won out in the end.
When Sutton Transformed Her Beloved Gun Into Jewelry (or a Vase)
This season, the gang tackled — and solved — a very important issue: gun control. Turns out, Sutton was on her high school shooting team and absolutely loves guns and the Second Amendment; meanwhile, Jane has a personal connection to the Columbine mass shooting. So you can imagine the contentious debate that popped up when Jane found out about "Betsy," Sutton's long-beloved gun. But by the end of the episode, Sutton is convinced by Jane that guns are bad — and drops off her beloved gun to be transformed into jewelry (or a vase) by an artist in Red Hook.
When the Lesbian Bar Was More Packed Than Times Square
Oh, to be a queer woman in The Bold Type universe. Never have queer women been this plentiful (and, uh, this uniformly femme…) since The L Word. When Kat walks into a New York lesbian bar that we think is called Habit Forming (??), she is leered at by no fewer than 700 gorgeous women, three of whom aggressively buy her drinks. One of these women tells Kat that because the community is "small," and she's new to the scene, she's bound to be popular. She later kisses this woman while Hayley Kiyoko's "Curious" plays over the speakers. In real life, yeah, the lesbian community is small. In this show? Doesn't seem all that hard-up.
When Jane Wins a Prestigious Award for an Article About Her Boss
The show makes it clear that Jane is a good writer — everyone wants to hire her! She gets her own vertical at Incite! — but we had no idea she was good enough to win an award … until now. This season, Jane wins a prestigious (and fictional) "Mandy" award for an article she wrote about a woman coming forward about her experience with sexual assault. Only, the woman in question is Jane's boss Jacqueline, which means all Jane had to do to get the story was walk from her desk to her boss's office and then type up the interview. What's more, the episode credits Jacqueline with helping start the #MeToo movement. Inspiring.
When Kat, the Social-Media Director, Went on a Road Trip the Day of the Scarlet Relaunch
Kat may only be in her mid-20s, but she's already the director of social media at Scarlet, which everyone on the show can agree (and often says) is impressive. Having a ton of responsibility at a young age, though, means you can't just blow off work to hang out with your friends … especially on the day of Scarlet's major website relaunch. But that didn't stop Kat from hopping in the car with Sutton and Jane for a road trip to Pennsylvania on that very day. Kat briefly fretted and looked at her phone throughout the day, but she was more focused on making out with a hot bartender than anything else. Surprisingly, she was not fired.
When Jane Filed Her Story in Hard Copy
Here is something that never, ever happens in media, and especially not in digital media: a writer prints out her first draft, puts it in a manila folder, and leaves it on her editor-in-chief's desk. And yet, this is how Jane turns in every milquetoast personal essay she's ever written. Jacqueline does not have time to line-edit first drafts by hand, okay? The media industry is collapsing. She shouldn't be taking these in-person meetings with Jane to line-edit her stories. Where are all the senior editors? Why doesn't their email work??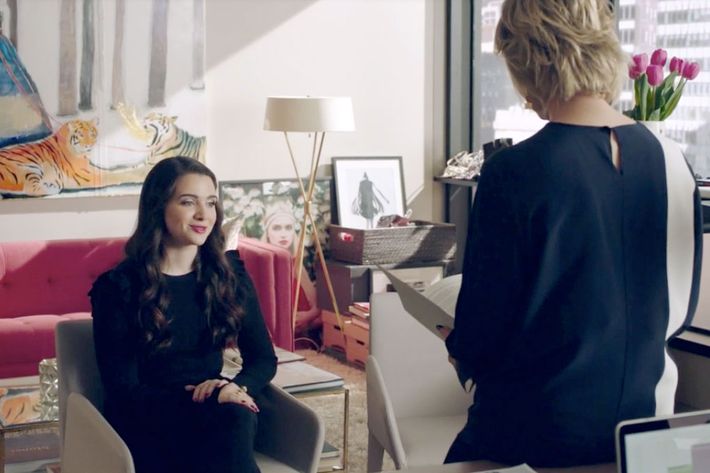 When Sutton Never Got Busted for Expensing Coke
Brooke Langley was fun while she lasted: the social-media "influencer" whom Sutton befriends — partly for work, partly in an effort to get over Richard — was a pretty spot-on roast of what many people assume famous Instagrammers to be: vain, materialistic, phony party people looking to mooch their way to the top. It is very funny that Brooke put $500 worth of cocaine on Sutton's Scarlet card. It is very, very weird that there was never any fallout from it. Presumably a lowish-level stylist doesn't get so large a budget that this wouldn't stand out??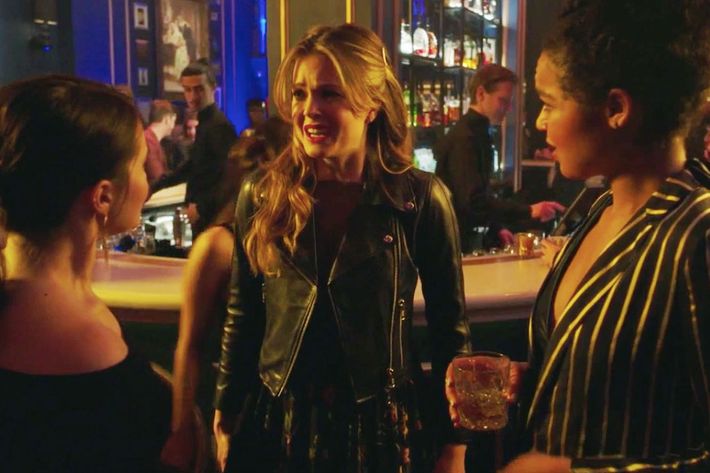 When the Girls Do Karaoke and They Actually Sound Good
If there's one thing the girls at The Bold Type love to do (other than be at work), it's karaoke. This season, we saw them do it twice — and unlike when normal humans partake in the act, these women can actually sing. First, in episode five, they impromptu-ly belt out ABBA's epic "Mamma Mia!," complete with some choreography they clearly rehearsed, and end up sounding better than most of the actual cast of the Mamma Mia! musical (sorry Pierce Brosnan).
Later in the season, when Jane is day drunk on their road trip, she sings Natalie Imbruglia's "Torn." Normal people don't sound like this.
When Kat Got From Greenpoint to Manhattan in a Tight 15
For the brief period in which she is unemployed (or "freelance"), Jane works from a coffee shop in what appears to be Greenpoint, a northern neighborhood of Brooklyn. One morning, Kat visits her there to reassure her that she isn't racist (don't ask) on her way into the office, which — if it's like most other New York media companies — is probably located in Lower Manhattan or the Flatiron district. When she gets a text from Richard asking her to meet in the office lobby in 15 minutes, she does not scream, or panic. She seems to think, "That's doable." Folks: it is not doable. We're talking a 30-minute commute at least.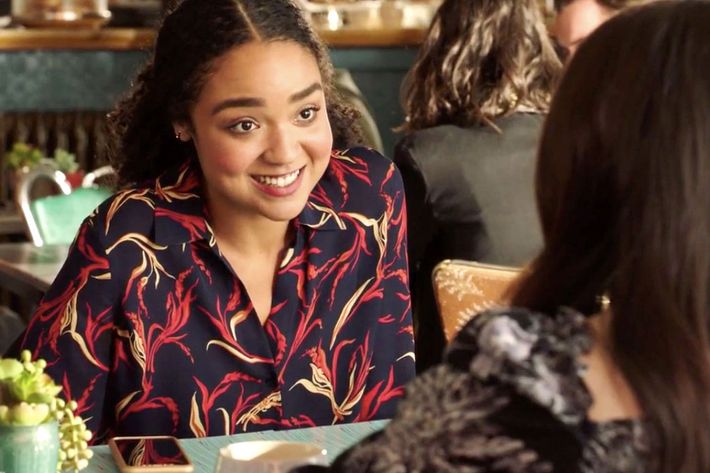 When Jane Catches a NY14 Reporter Cheating in Public at a Bar Known for Gossip Reporting
During Jane's brief foray into freelance gossip reporting, she comes across a major scoop: She sees a reporter from NY14 (presumably the fictional version of NY1) cheating on his pregnant wife. The only thing is, the cheating is happening out in the open at a booth at a ritzy bar known for its media and celebrity sightings — and where she and Pinstripe regularly do their gossip reporting. Ethics of cheating aside, you'd think the guy would at least be smart enough to take his side piece to a more private place.
When Pinstripe Tries to Get Jane Back by Offering to Pay for Her Egg Freezing
On the season finale, Jane has a problem: she wants to freeze her eggs due to her BRCA-positive diagnosis, but Scarlet's sexist insurance doesn't cover fertility treatments. Never fear, because both of Jane's suitors come to her rescue. First, her American/Australian boyfriend Ben offers to become her domestic partner. Then, Ryan — a.k.a. Pinstripe a.k.a. Man With Commitment Issues — has an even more romantic proposal: he brings a carton of eggs to Jane's house to show her that he a) is willing to pay for her egg freezing and b) wants her back. Swoon, we guess.