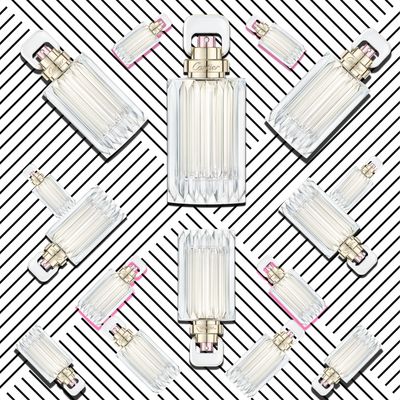 Photo: Courtesy of Cartier
Rainbows are truly having their moment in the sun (and rain). They inspired Herbivore's new serum. They inspired Colourpop's new skin-care line. And now, they're the subject of Cartier's new perfume: Carat.
Cartier perfumer Mathilde Laurent wanted to create a fragrance that was representative of all of her olfactory work with the brand, because that #diamondlifestyle isn't just about looking good, it's also about smelling good too. Picture the seven colors of a rainbow refracted through a diamond and you get the idea behind Carat. Each color is represented by a flower: Tulip for red, honeysuckle for orange, daffodil for yellow, ylang-ylang for green, iris for blue, hyacinth for indigo, and (can you believe) violet for violet. The theory is that each of the flowers will blend into one abstract, grand white flower, reminiscent of the intense, fiery sparkle of a diamond. Or, you know, a bouquet of flowers. Either way, it's fancy.
The perfume comes in a faceted Art Deco–style bottle that catches and reflects light just like a really big diamond would. It would certainly look and smell sparkly on your vanity.
Photo: Courtesy of Cartier
If you buy something through our links, New York may earn an affiliate commission.