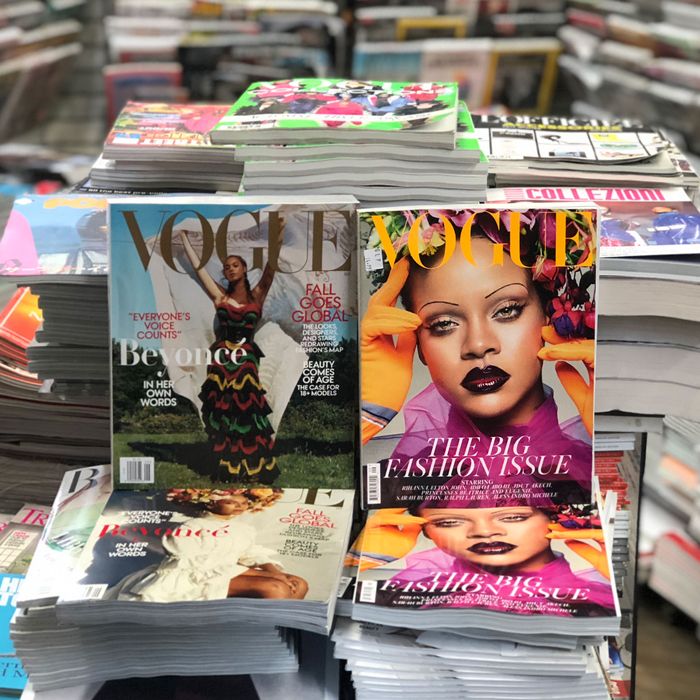 Mohammed Ahmed, owner of Casa Magazines.
Photo: Courtesy of Casa Magazines
Fashion happens faster than ever these days. Each week, we attempt to make sense of it in a column called, "What Is Fashion?"
When I walked into Casa Magazines in the West Village on Wednesday afternoon, I was greeted by a smiling woman named Happy. She sat perched atop a pile of September issues, which had recently been delivered to the small, triangular-shaped "Magazine-lover's mecca" on the corner of 8th Avenue and West 12th Street.
Happy runs the Instagram account for @CasaMagazinesNYC, which she created last year in the hopes of bringing the digital world into the print-based business. She's since attracted close to 4,000 loyal followers, many of whom work in fashion and/or publishing. I started following this summer, and it's the only reason I know when titles "drop" on newsstands.
The store's owner, Mohammed Ahmed — who's something like a local celebrity in the Village — has also become Instagram's foremost print magazine influencer as a result. (If not the only print magazine influencer.) Happy often photographs him holding up his "picks," the most recent being Vogue's Beyoncé cover, which was his favorite simply because it was this year's September best-seller.
Mohammed has worked behind the counter since 1995. He remembers when people used to line up outside on Saturday nights to get the first shipment of the Sunday New York Times, like we see at Supreme today. Or when Supreme buys the cover of the New York Post, which they did this August. In the '90s, he sold hundreds of newspapers to people looking for jobs and apartments, and anything written about Princess Diana flew off the shelves. When asked if any celebrity today moves magazines like Diana, Mohammed shook his head. "Maybe if Trump died," mumbled his longtime employee, Ali.
With so much talk about the dismal state of publishing — and about the simultaneous progress magazines seem to be making with diversity — I thought someone like Mohammed, who still lives and breathes print, could provide some valuable insight. The September covers looked more inclusive this year, but did that effect sales? Is there any way to get people to pick up a magazine today, besides putting Beyoncé or Supreme its cover?
For some, Casa Magazines is still a neighborhood treasure, but for others it's merely a nostalgic backdrop. Mohammed laments that fashion bloggers will come into the store, pick up a magazine to snap a few photos for their Instagram accounts, and leave without buying anything. (Just look at their tagged photos for evidence.) To discourage this kind of behavior, he hung up very-polite signs in prime locations that read: "No photos of the content."
Still, the September fashion issues ring in the busiest time of the year for Casa Magazines, followed by the arrival of the March editions. Tyler Mitchell, the 23-year-old who shot Beyoncé for Vogue's current September cover — making him the first black photographer ever to so — came in recently to buy copies for his family. He shared a photo on his own Instagram Stories, which is the kind of content Casa Magazines allows.
Magazine staffers often visit the shop, including Vogue's André Leon Talley, but this year Mohammed has noticed a significant number of new contributors in print. Currently there are almost more people of color on the September 2018 issue covers than there were in 2017 and 2015 combined, percentage wise, according to a Fashionista diversity survey. There's been a shift internationally as well: Tracee Ellis Ross covered Elle Canada; Slick Woods posed several months pregnant for Elle UK; and Rihanna notably covered Edward Enninful's first September Vogue UK issue.
It was an exciting summer. But despite these current strides, and the buzz they generated online, Mohammed says print is still in danger. "We are feeling a difference, but nothing is happening practically," he said of sales. Of course, Casa Magazines is just one store, and its sales cannot speak for an entire industry's performance. But Mohammed's words aren't surprising. "Technology is good, but business-wise, I don't know what we'll do in the future," he said.
Mohammed isn't giving up yet, though, and neither is Happy. She makes sure to caption all of Casa Magazine's Instagram posts with the hashtag: #LongLivePrint. Because of them, neither am I.