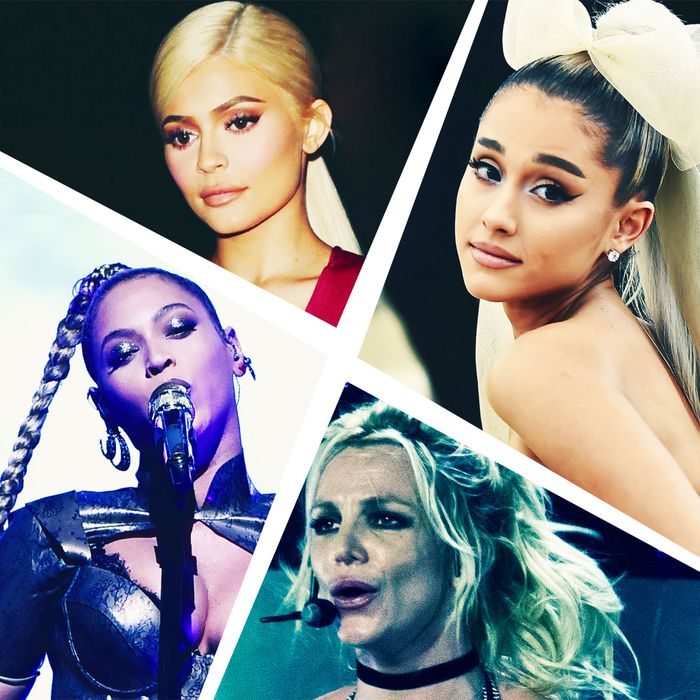 Photo-Illustration: Getty Images
Ponytails have become stand-alone pop-culture fixtures in their own right. Ariana Grande's alone managed to boost the sale of clip-in ponytail extensions in Australia by 50 percent. Today's updos are so ambitious that they're consistently making headlines. And when a pop-culture referent becomes this remarked-upon, it's time to turn it into a Halloween costume.
Here, five ponytails to consider dressing up as this All Hallows' Eve if, like me, you're looking to stand out in a crowd of Meghans and Harrys.
If you want to look sexy…
Kylie Jenner's 21st Birthday Ponytail
What could be more sleek and sexy than transforming into Kylie's $8,000, bleach-blonde pony? Weighing in at 400 whole grams of hair and measuring in at a modest 30 inches long, this ponytail is extra, but you are too, on Halloween.
To get the look: Measure your height in inches, then drape yourself in the appropriate length of naturally highlighted Slavic hair. Kylie's was flown in all the way from Russia, so put on your best Russian accent if people still can't figure out what you are.
If you want to look fierce…
Beyoncé's Sentient OTRII Braided Ponytail
This ponytail braid has its own fan club and choreography, just like a real celebrity. The plait pattern is great for accentuating curves if you're into that sort of thing, and thematically, it's a great costume if your Halloween plans involve dancing.
To get the look: Order the largest jumbo braid hair extension you can possibly find. Preferably a human-sized one. Next, strategically stick various parts of your body throughout the plait — your head, both arms, both legs — until you're wearing the braid like a comfy leotard.
If you plan on being a hot mess…
Britney Spears's Piece of Me Tour Ponytail
This messy ponytail is the true star of Britney's Piece of Me tour. Britney herself can't get enough of it. She's consistently interrupting choreography to touch it, tug at it, and tighten it, but Piece of Me Pony just keeps doing its thing. This costume is a good choice if you're planning on having a true Girl's Halloween, rather than a quiet one in. The more you fall apart, the better.
To get the look: Track down a sandy-colored hooded onesie and haphazardly glue blonde extensions all over. Have fun with it!
If you want to look cute…
Ariana Grande's Met Gala 2018 Ponytail
To stand out from all the other Ari Ponys that will undoubtedly be running around this Halloween, go for the iconic ponytail's memorable Met Gala look. It showed up in a new pastel hue in a nod to the Sweetener aesthetic, wrapped up a huge bow (because it is a gift, of course.)
To get the look: Get a Sia bow wig and channel your inner celebrity hairstylist by adding extra long extensions until the length reaches your ankles.
If you want to be controversial…
Tiffany Trump's LiLo x Mykonos Ponytail
Get kind of political by dressing up as the ponytail Lindsay Lohan styled on Tiffany Trump on a weird vacation in Mykonos. This ponytail's fame was short-lived (its birth was documented on a now-expired Instagram Story and Lohan deleted the one good photo of it) so this is a good option if your costumes tend to be a game-time decision.
To get the look: A run-of-the-mill Cousin It costume will do.