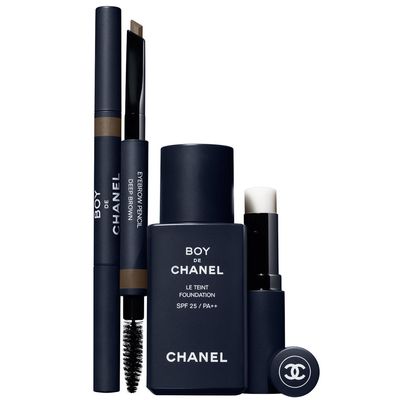 In the grand tradition of Queer Eye, Chanel wants to help make men pretty. The brand is launching its first makeup line designed for men, available in South Korea on September 1, Women's Wear Daily reports.
The line, dubbed Boy de Chanel, includes three products: a matte moisturizing lip balm, as well as a tinted fluid and eyebrow pencil, both available in four shades. The name, while a riff on gender, is allegedly inspired by Boy Capel, designer Gabrielle Chanel's lover and muse.
"Just as Gabrielle Chanel borrowed elements from the men's wardrobe to dress women, Chanel draws inspiration from the women's world to write the vocabulary of a new personal aesthetic for men," the company wrote in a press statement. "Lines, colors, attitudes, gestures … There is no absolutely feminine or masculine prerequisite: Style alone defines the person we wish to be."
For those outside South Korea, the line will be available on Chanel's website come November and hit boutique shelves in January. Vive l'homme!