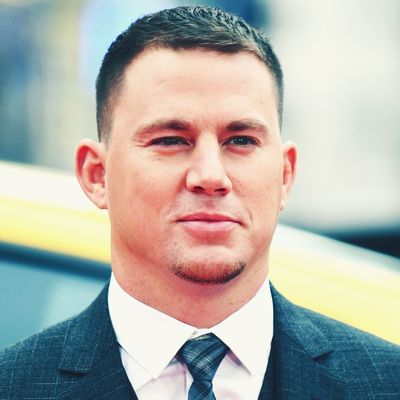 Channing Tatum.
Photo: Stuart C. Wilson/Getty Images
Back in April, enthusiastic emailer Channing Tatum and his Step Up co-star (and real-life wife) Jenna Dewan announced they were splitting after nine years of marriage. But don't worry, the Magic Mike star is doing just fine amid the inevitable heartbreak and disappointment of his breakup: Tatum has apparently turned to sculpture — just like Brad Pitt before him.
Pitt also found relief in the art of sculpture following his own (contentious) split from Angelina Jolie. In fact, Pitt apparently skipped the Oscars last year because, as The Hollywood Reporter wrote at the time, he was "holed up creating a sculpture at British artist Thomas Houseago's Frogtown studio" for "nearly 10 days." Pitt described his new hobby, in great detail, to GQ last year: "I'm making everything. I'm working with clay, plaster, rebar, wood. Just trying to learn the materials. You know, I surprise myself. But it's a very, very lonely occupation."
And on Wednesday, we learned that Tatum is following in Pitt's artistic footsteps.
Tatum posted a picture on social media on Wednesday, showing his valiant effort at making a sculpture. "This was my attempt at creating a sculpture of Picasso's Guitarist [sic]," he wrote in a post that accompanied the image. "It's was starting out ok. Then i had to get different clay for my hands. Then my daughter destroyed it."
But lest you worry Tatum was upset at his 5-year-old daughter for "destroying" his art, the actor continued: "Hahahaha oh well. Start a new."
Wow. Wise words for creating art … and for starting over after divorce.