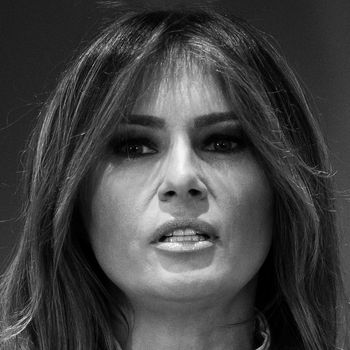 Melania Trump.
Photo: SAUL LOEB/AFP/Getty Images
On Monday, less than a week after her husband called his former staffer Omarosa Manigault Newman a "dog" on Twitter, First Lady Melania Trump spoke out against the "destructive and harmful" use of social media at a cyberbullying summit in Rockville, Maryland.
The speech was part of her Be Best initiative that's focused on tackling healthy social-media use, as well as "well-being" and, uh, opioid abuse.
"Let's face it: Most children are more aware of the benefits and pitfalls of social media than some adults, but we still need to do all we can to provide them with information and tools for successful and safe online habits," the First Lady said on Tuesday.
"In today's global society, social media is an inevitable part of our children's daily lives," she added. "It can be used in many positive ways, but can also be destructive and harmful when used incorrectly. This is why Be Best chooses to focus on the importance of teaching our next generation how to conduct themselves safely and in a positive manner in an online setting."
She concluded that the initiative's goal was to "pave a smooth way forward for our children, our next generation."
This is not the first time the First Lady has spoken out against cyberbullying. Back in February, at a luncheon for governors' spouses, she said adults should encourage "positive habits on social media."
"As I have said before, it is important that as adults we take the lead and responsibility in helping our children manage the many issues they're facing today," she said. "This means encouraging positive habits on social media and technology, even limiting time online and understanding the content they are exposed to on a daily basis."
She also said, "I am asking you all to join me today and commit to promoting values such as encouragement, kindness, compassion, and respect in our children."
Back in March, she acknowledged that her decision to tackle the issue of cyberbullying, while her husband continue to insult his various opponents online, had raised some eyebrows.
"I'm well aware that people are skeptical of me discussing this topic," she said at a tech summit on cyberbullying. "I have been criticized for my commitment to tackling this issue and I know that will continue."
While Melania Trump addressed the summit on Monday, the president was busy on Twitter, attacking both former CIA chief John Brennan and Justice Department official Brian Ohr.
Be best, everyone.