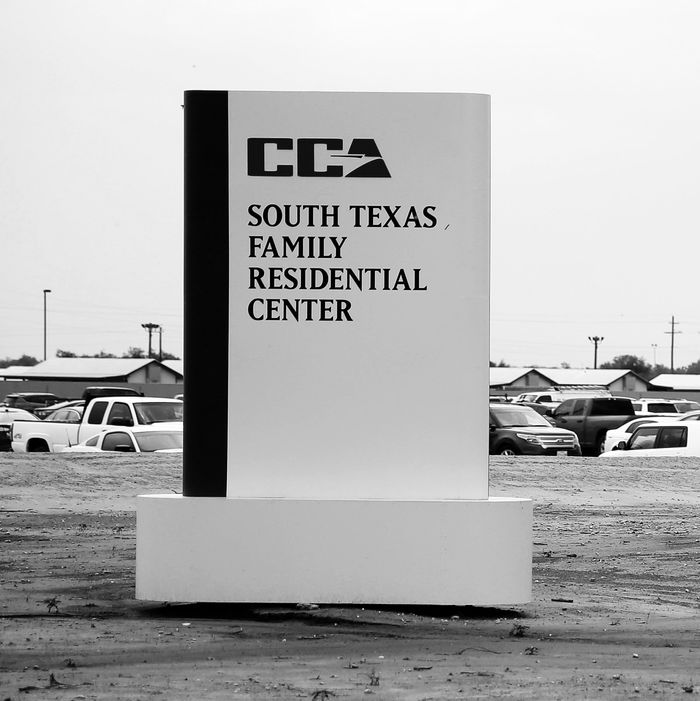 Dilley South Texas Family Residential Center.
Photo: Eric Gay/AP/REX/Shutterstock
A child died shortly after being released from an ICE detention facility in Dilley, Texas, according to the American Immigration Lawyers Association. ICE hasn't confirmed the death, citing a lack of information, but tweeted on Wednesday that no child had died in actual ICE custody.
On Tuesday night, Mana Yegani, an immigration lawyer, implied that the girl's time in detention could have caused her death, tweeting that "the child died following her stay at an ICE Detention Center, as a result of possible negligent care and a respiratory illness she contracted from one of the other children."
The American Immigration Lawyers Association was a bit more circumspect. "AILA has learned that a toddler died soon after release from the Dilley South Texas Family Residential Center," the organization said in a statement. "We do not have information on the cause of death or information that confirms a connection between medical treatment at [the detention center] and this death."
In a statement to San Antonio Express News, ICE stated that they were unable to investigate the claim with the information provided. "The updated accusation leaves little to no info that allows us to research. …We are looking into the report of the death after custody, but without any specifics about who this was we are unable to provide anything further at this time."
At this time, there are no verified reports about the child's identity or if the child died as a result of their detention. The news comes after reports that children were beaten, starved, and abused inside detention facilities after being separated from parents and family members. Some children have yet to be reunited with their families, after the Trump administration failed to meet the reunification deadline last week.