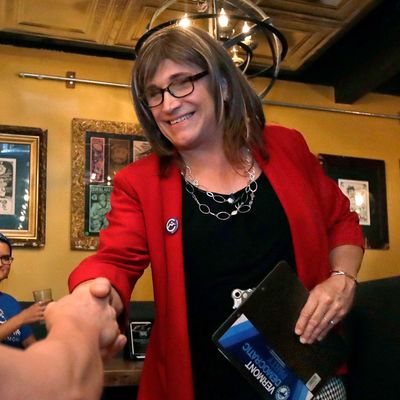 Hallquist greets supporters during her election night party in Burlington, Vermont.
Photo: Charles Krupa/AP/REX/Shutterstock/Charles Krupa/AP/REX/Shutterstock
Christine Hallquist made history on Tuesday night when she won Vermont's Democratic gubernatorial primary, becoming the first transgender gubernatorial nominee for a major political party. Now Hallquist will take on Republican governor Phil Scott, who easily fended off a challenge from businessman Keith Stern.
Hallquist faced three other Democratic candidates for governor, including a 14-year-old boy, taking 48 percent of the vote, with 80 percent of precincts reporting.
Until Tuesday the race hadn't drawn much attention even within the state, but polls suggested Hallquist had the highest name recognition on the Democratic side. She transitioned in 2015 while she was CEO of the Vermont Electric Cooperative, a power utility that she helped turn around. She told the Guardian that she would have been happy to stay on at the company, but the election of Donald Trump inspired her to run for governor.
"November 8, 2016, I realized the world changed," she said. "I went to bed, and of course like any other trauma I was in political depression and I just didn't know what to do. I mean, many of us in this country shed a lot of tears for what happened on November 8."
Hallquist is running on her managerial abilities, and has promised to boost economic development in rural Vermont by expanding broadband access. She also supports various progressive policies, like Medicare for All and raising the minimum wage to $15.
"Christine's victory is a defining moment in the movement for trans equality and is especially remarkable given how few out trans elected officials there are at any level of government," Annise Parker, the chief executive of the LGBTQ Victory Fund, which supports gay and transgender candidates, said in a statement. "Yet Vermont voters chose Christine not because of her gender identity, but because she is an open and authentic candidate with a long history of service to the state, and who speaks to the issues most important to voters."
While Scott, a first-term governor, was popular during his first two years in office, his approval rating plummeted after he signed a bill tightening gun restrictions in April. As Morning Consult explained last month:
The first-term governor, who was elected in 2016 and is facing a primary challenge, saw his stock plummet between the first and second quarters of the year. His approval among Vermonters fell 18 points to 47 percent while his disapproval doubled to 42 percent.




That net 38 point drop is the biggest quarterly shift since Morning Consult began polling the subject in May 2016. It was also enough to knock Scott out of his place in the top 10 — which he had shared with popular blue-state GOP Govs. Charlie Baker of Massachusetts and Larry Hogan of Maryland — and place him three spots from the bottom 10.
But Scott is still the favorite in the race, with Cook Political Report rating it "solid Republican." A poll conducted in July had some good news for the governor: Two-thirds of Vermonters said they support the gun law, and nearly half of Democrats had a positive opinion of Scott. Only 18 percent of Democrats had a favorable opinion of Hallquist, but 55 percent did not know who she was.
Hallquist's path to victory may be difficult, but the New York Times notes that with her campaign drawing national attention, she'll attract more fundraising dollars and other resources.
"I tell people this isn't the hardest thing I ever did," she said in the days before the primary. "In fact, I think after transitioning everything else looks pretty easy."