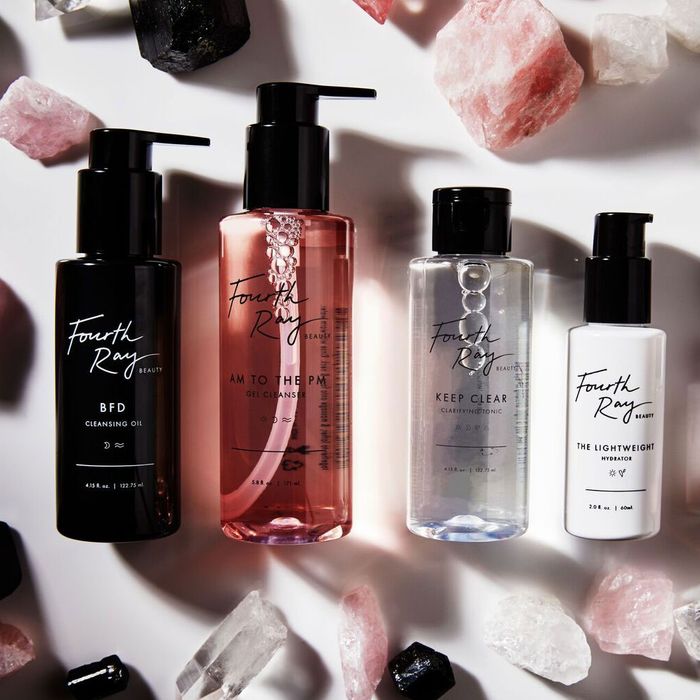 Photo: Courtesy of the Retailer
Did you know that the seven rays of light on a rainbow actually mean something? That's right, there is a deeper meaning to ROY G BIV, and apparently the "fourth ray" represents beauty, harmony, purity, wholeness and integration. That description captures the vibe that new skin-care line (guess what their name is) Fourth Ray Beauty is going for. The Colourpop sister brand is the latest line hitching their cleansers to the wellness bandwagon. According to a press release from the brand:
All Fourth Ray products are 100% cruelty free, vegan, free from gluten, parabens, phthalates, synthetic fragrances, and are made in the USA. Dermatologist-tested and safe for all skin types, these products carry with them our promise to deliver the best beauty has to offer at the most accessible price points.
In case that quote did not tip you off: there will be crystals. In fact, one of the products you can purchase is a $150 "Ritual Box" that includes all of the skin-care products and tools as well as bath bombs, a sage bunch, a candle, matches, and a bag of crystals.
Despite the price of the box, the affordability we've come to love from Colourpop is on display here as well: the AM to the PM Gel Cleanser is $12, and the Keep the Clear Clarifying Tonic is $10. And naturally, most of the ingredients sound like you're reading the menu at a fancy juice bar: highlights include Lychee, Hawaiian Ginger, Ginseng, and Papaya Enzymes. You can let your skin drink up all this goodness when the brand goes live on August 23. Mantras sold separately.