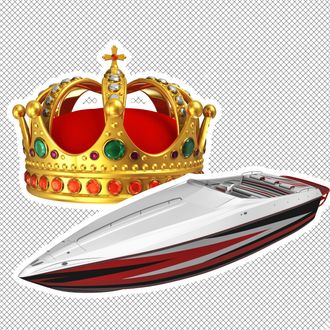 Thieving, we can all agree, is generally bad. Unfortunately, as all those Ocean movies taught us, thieving sometimes looks pretty cool. Like in the case of these bad boys who swiped two "priceless" crowns and an "orb" that belonged to a 17th-century king and queen of Sweden, before scooting off in a speedboat, and probably doing kick flips or winking at police or doing something else awesome, I don't know, details are still emerging.
According to the BBC, police in Sweden have launched a "manhunt" for the two men who were seen running from the Strängnäs Cathedral, near Stockholm on Tuesday afternoon, and then were "seen motoring off into Lake Malaren." (Cool.)
"It's 1-0 to them right now," said police spokesperson Thomas Agnevik, the BBC reports. This is also an extremely cool thing to say about a heist, because it sets him up to mumble "It's 1-1 now, guys," under his breath at some point in the future, when the police find an important clue.
The jewels were the 1611 funeral regalia of Swedish king Charles IX and queen Kristina the Elder. They were covered in gold and pearls and precious stones, and Agnevik says it is "not possible to put an economic value on this, it is invaluable items of national interest."
One witness told the local news channel that he contacted police when she saw the pair, because, "I knew immediately they were burglars because of the way they were behaving." (The stealing tipped him off, probably.)
The jewels were kept in a locked and alarmed glass display, and it remains unclear how exactly the thieves broke into it. No one was hurt in the heist but the church staff were reportedly "shaken."
In any case, the thieves are not the first people to become transfixed by a beautiful orb.