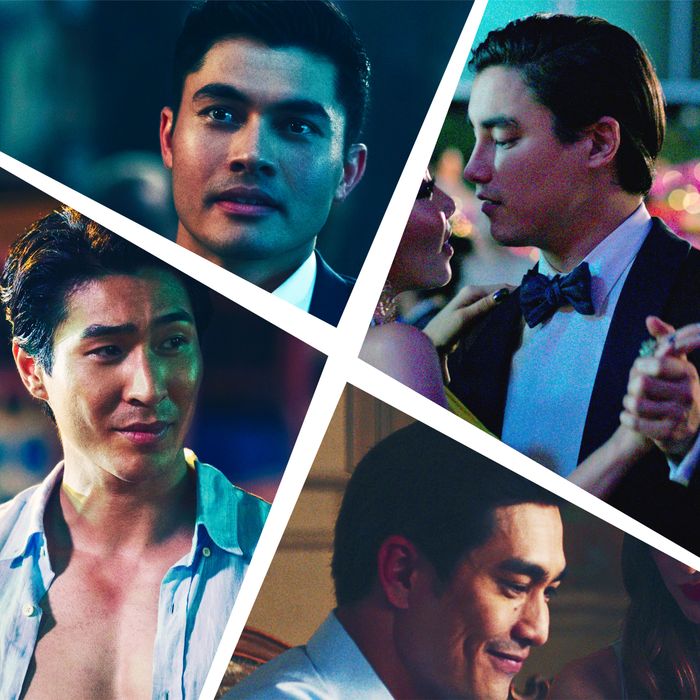 The hot men of
Crazy Rich Asians
.
Photo-Illustration: Courtesy of Warner Bros. Pictures
There are some light spoilers for Crazy Rich Asians below.
It's so rare to leave a movie feeling absolute joy, hope, and an urge to quit your job to start a real-estate empire in Singapore. Once there, maybe you'll magically become rich, beautiful, and also, your clothes are amazing and you're in love! But that sensation is precisely what happens to every single person who watches Crazy Rich Asians (in theaters now).
The movie is a true delight: a charming rom-com that's over-the-top and opulent in the best way possible. There's exquisite clothes, luxurious housing, fancy cars, and beautiful stars. It also has an almost relatable fish-out-of-water story (except that the lead actress is stunning and perpetually surrounded by gold interiors) and is notably the first Hollywood studio movie in 25 years to feature a predominantly Asian cast, including Constance Wu, Sonoya Mizuno, and Michelle Yeoh.
But superficially speaking, the movie also offers up two hours of absolutely unparalleled hot male eye candy — from Hot Shirtless Man Talking About Feelings With His Hot Shirtless Friend to Hot Shirtless Man Coming Out of the Shower and of course, who could forget Hot Shirtless Man Snuggling?
So, let's pour ourselves some (expensive!) bubbly and take a look at some of the beautiful men of Crazy Rich Asians.
The Hot Leading Man (Henry Golding):
I'm not sure if this is entirely accurate (someone please ask the Guinness Book of World Records for me), but in my estimation, Henry Golding is the most perfect man in the world. Playing Nick Young, the heir to a wealthy Singaporean family, Golding had a lot to live up to: in the books, he's described as handsome, charming, and thoughtful. But thankfully, Golding was up to the challenge. He spends the film being wonderful and having an amazingly symmetrical face and very in-shape bod. His smooth British accent only adds to his appeal. Excuse me while I go plan our wedding.
The Hot Best Friend (Chris Pang):
Chris Pang's work as Colin Khoo in Crazy Rich Asians presents a dangerous problem for us all, as viewers. On one hand, we are peripherally aware that he is playing the role of Nick's best friend (and the groom of the movie's centerpiece wedding.) But on another, we get to see see his abs (which he worked quite hard to attain) several times in the film. This causes us to immediately forget about anything else in the plot, in our own lives or even how to breathe. Help, call 911, STAT.
The Hot Horrible Husband We Hate (Pierre Png):
But speaking of dangers, there's another set of spectacular abs in the movie: those of Pierre Png, who plays Astrid's husband, Michael. As a former solider turned tech executive, Michael marries into wealth — and lo and behold, he's both insecure and a cheater. We are supposed to hate this man for the aforementioned reasons. And yet, when he emerges dripping wet from the shower, he's too beautiful for our hatred, and his abs too exquisite for us to wish anything other than eternal happiness on him.
The Hot Movie-Producer Cousin (Remy Hii):
We don't get to learn much about Alistair Cheng (played by Remy Hii) during the movie, other than the fact that he's Nick's cousin, is a movie producer, and is dating a dramatic soap-opera star the family doesn't approve of. But that's fine, because all we need to know is that looking at him is what I assume being hugged by a cloud feels like.
The Hot Rest of the Male Portion of the Cast, Because Collectively They Just All Look So Hot Together:
To be frank, regardless of gender, the film's entire cast is just absolutely picture perfect. But let's take a moment to honor the remaining men in the ensemble that we haven't mentioned yet, including Jimmy O. Yang and Ronny Chieng. They are all so beautiful together.