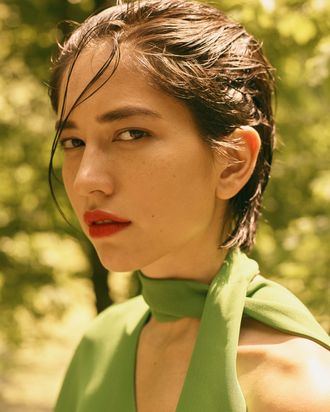 In all this humidity, putting anything that isn't an extremely absorbent towel on your face sounds far from appealing. But seeing Crazy Rich Asians star Sonoya Mizuno's beauty look for this month's cover story made me want to swerve from my sweat-only makeup regimen. Mizuno looks dewy, not damp. Sultry, not sweaty. She's making me want to wear lipstick. Outside! I spoke with Tyron Machhausen, the makeup artist who created the look, to hear how it all came together.
The inspiration: Central Park (where the shoot took place), Tina Chow, Mizuno's background as a ballerina, and Martha Graham. The weather: Very hot and very humid. The products: Moisturizing, waterproof, and intentionally minimal. "Aside from the orange-red lip that adds some unexpected glamour, I wanted the rest of the makeup to look as fresh, natural, and organic as possible," said Machhausen. That meant skipping eye makeup altogether. Here are Machhausen's tips for getting a pretty, dewy, non-runny summer look in just five steps.
Start With an Oil – Really
Machhausen started with a face oil to prep Mizuno's skin. "It's a great moisturizer — it's not too shiny, but it still gets you that really beautiful glow that lasts throughout the day." Simply massage it into your skin and you're good to go. Maybe treat yourself to a Japanese facial massage while you're at it.
Next, he followed up with a lightweight tinted moisturizer to even out the skin. "I just used a couple of drops here and there because I wanted to see her skin; I wanted to see freckles and get that natural, no-makeup feel." The added SPF will also come in handy (as it did on the shoot) if you plan to go outside anytime soon.
Use Your Fingers to Apply Lipstick
For the focal point of the look, Machhausen went with a bold orange-red shade. To avoid a heavy, painted look, he applied the lip color with his fingers and smoothed out the edges with a Q-tip. "A strong lip color looks so fresh when applied in a more carefree way without the usual defined edges," he explained, validating all of us with less than steady hands.
Machhausen rounded out the look by lightly filling in Mizuno's (amazing) brows. "It creates a nice balance to pair a stronger-colored lip with a beautifully shaped brow," he added. A waterproof formula is a especially great for the sweatier than usual weather conditions.
Lastly, Machhausen simply brushed Mizuno's brows into place with transparent brow gel to keep them on brand with the natural look. Done!