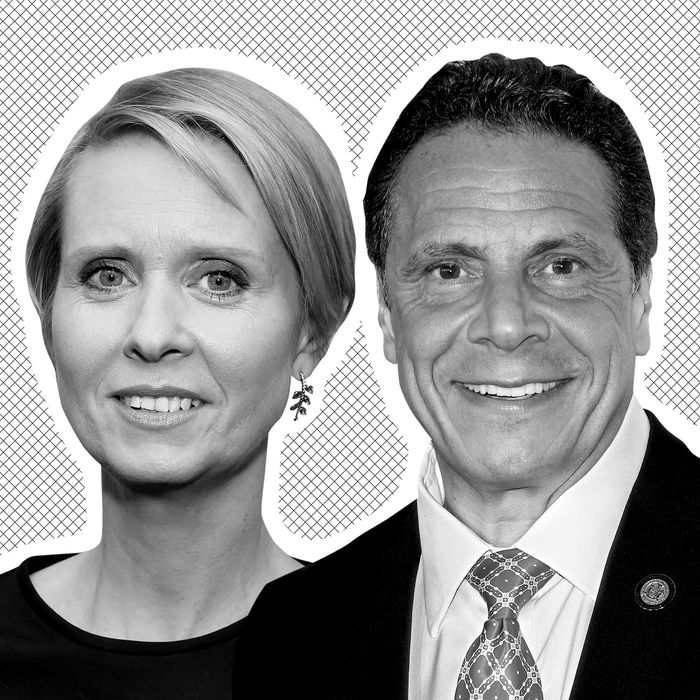 Cynthia Nixon, Andrew Cuomo.
Photo: Getty Images
It's been a long road to this Hofstra University auditorium. Famously thin-skinned Governor Andrew Cuomo hasn't participated in a primary debate since 2010 and hasn't been in a one-on-one debate since 2006. His opponent, actress and activist Cynthia Nixon, first challenged him to one in early May — but it took him until mid-August to accept. And before they could even face off in person, the two spent yesterday sparring over the potential temperature in the room.
But both Democratic gubernatorial candidates made it, just a couple of weeks before New York's September 13 state primary. The two argued over issues like single-payer healthcare, public workers' right to strike, the state of the subway, and … Sarah Jessica Parker's teahouse?
Here were the five most contentious, intense exchanges from tonight's debate.
1. Nixon calling out Cuomo for not standing up to Trump.
Cuomo brought up the president multiple times in an attempt to position himself and New York State as stalwart resisters of the Trump administration. "He tweets at me weekly," he bragged. "Know me by my enemies." When it came time for Nixon's rebuttal, she quickly pointed out that, "Donald Trump did tweet at you about whether or not America was great and you backed down pretty quickly. You stood up to him about as well as he stands up to Putin." (In mid-August, Cuomo walked back his boldest progressive statement this campaign cycle — the assertion that America "was never that great" — after being attacked by the White House.)
"We already have a corrupt corporate Republican in the White House," she continued. "We don't need a corrupt corporate Democrat in Albany as his main opposition."
2. "Can you stop interrupting?" vs. "Can you stop lying?"
It's no surprise that the mismanagement of the MTA was an especially contentious topic at hand. It also led to one of the most whiplash-inducing micro-arguments of the night:
Cuomo: "Excuse me. Can you stop interrupting?"

Nixon: "Can you stop lying?

Cuomo: "As soon as you do."
In other predictable events, that exchange more or less repeated itself multiple times throughout the evening.
3. Bloomberg-gate.
In a July profile in the New York Times, Nixon curiously said she wouldn't be running if Michael Bloomberg was governor. She got the chance to elaborate on it during tonight's debate. As Cuomo was talking about how Bloomberg is responsible for the Republican senate, he pointed out Nixon's previous comments. She immediately cut in with: "I did not say I would support him for governor, I said I would not run against him because he is not corrupt like you are."
Audible woahhhs from the crowd here.
4. The tax return showdown.
Nixon recently released her tax returns from the past five years, which Cuomo doesn't find satisfactory. Nixon, meanwhile, kept pointing out that Cuomo didn't release his own returns until after he was elected.
Nixon: "You keep moving the goal post and you have a whole different set of rules for me than you have for you, and I don't think that's fair."

Cuomo: "I released my taxes for 20 years, will you? I didn't think so."

Nixon: "Let's move the goalpost again, why don't I release them for 50 years?"
He also sniped that "my opponent is upset with the Koch brothers because they're the only ones who take more tax loopholes than she does."
5. Cuomo insisting Nixon is a "corporation."
In by far the most entertaining exchange of the evening, Cuomo continued to insist that a) Nixon was a corporation, and b) she was using that status to get "favors for her friends," including "the teahouse for Sarah Jessica Parker." He was referencing Nixon asking that helicopters not fly over "Shakespeare in the Park" because they were noisy; she also forwarded an email from her former Sex and the City co-star to Mayor Bill de Blasio when her local tea shop, Tea & Sympathy, was in danger of losing its lease.