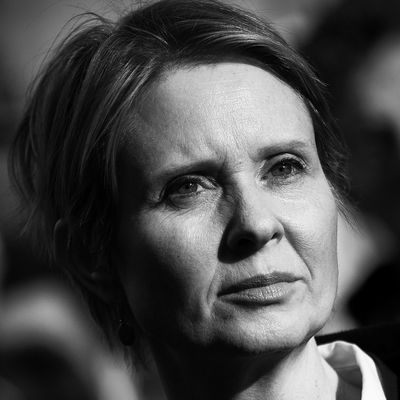 Cynthia Nixon.
Photo: Drew Angerer/Getty Images
Just a week after Andrew Cuomo finally acquiesced to Cynthia Nixon's repeated challenges to debate her, Nixon has begun taking preemptive steps to ensure that the governor doesn't get to call all the shots. Per the New York Times, among her requests to the debate host was to have the debate hall be a pleasant temperature, as Cuomo's preference for freezing-cold rooms is "notoriously sexist."
In early May, Nixon first challenged Cuomo to debate her one-on-one after the TV station WABC and its partners offered to host it — a proposal that the governor ignored for more than three months before accepting on August 13. Soon after he agreed to the debate, the Nixon campaign accused Cuomo of being demanding, and CBS of letting the governor have his way with everything.
"CBS management has acknowledged that the only way to get Governor Cuomo to show up is by giving him everything he wants," reads a press release on Nixon's website. "We weren't even given a seat at the table."
But the Nixon campaign has made its requests very clear: The gubernatorial candidate would like the debate hall to be 76 degrees Fahrenheit, though that's just an "opening offer," according to Nixon's campaign strategist Rebecca Katz. In an email to WCBS last week, Katz wrote that working conditions are "notoriously sexist when it comes to room temperature, so we just want to make sure we're all on the same page here."
The candidates will also reportedly be seated in separate desks when the debate begins — a move that Katz said will embody "Cuomo's preferred style of press conference." In reference to this decision, Nixon quipped, "I was really looking forward to going toe to toe with Andrew Cuomo. I guess we'll be seated. I guess we'll be going tush to tush."
Update, August 29: In a statement, a rep for Cuomo said, "Unlike Cynthia Nixon, the Governor has more important things to focus on than the temperature of a room." (Yesterday, Nixon hosted a chat on criminal justice in which she vowed to eliminate cash bail, opposed private prisons, and called for the end of broken windows policing.)