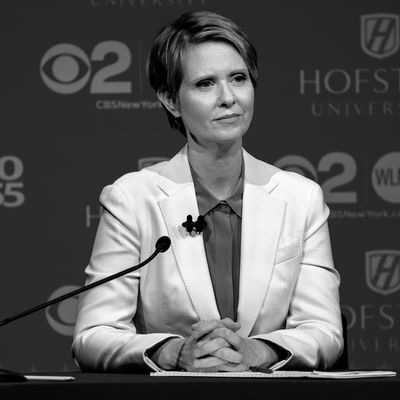 Cynthia Nixon.
Photo: Pool/Getty Images
Wednesday night's (not too cold) debate between Cynthia Nixon and Andrew Cuomo was filled with several intense exchanges between the two candidates, during which Nixon attempted to firmly distinguish her brand of politics from Cuomo's.
In the midst of a lightning round of questions for both candidates, Nixon was asked if she would give up the $179,000 governor's salary and turn it back to the state since she identifies as a Democratic Socialist. She responded succinctly: "Sure."
"No salary?" debate moderator Maurice DuBois followed up.
"No salary," Nixon repeated back.
Some were quick to point out that the question felt like a double standard, highlighting that, while both Cuomo and Nixon come from wealth, Cuomo wasn't asked if he would give the money back to the state in the future.
Others pointed out that asking a leftist candidate if they would work for free misinterprets the values of a progressive platform, and explained that all labor should be compensated.
Plus, with all the other issues facing the state, the governor's salary hardly feels like a priority.