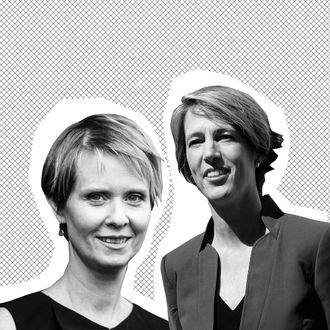 Cynthia Nixon and Zephyr Teachout.
Photo: Getty Images
In 2014, Zephyr Teachout decided to take on Andrew Cuomo in the New York gubernatorial primary. The anti-corruption lawyer and Fordham Law professor had virtually no name recognition — nor the extensive campaign funds and Democratic party connections that the famously vengeful incumbent governor does — but still managed to secure 35 percent of the vote. This year, Teachout has set her sights on the vacant New York attorney general position, left open after Eric Schneiderman stepped down amid abuse allegations in May. Meanwhile, actress and activist Cynthia Nixon has mounted a fierce primary challenge against Cuomo in the 2018 governor's race, and has already pushed her opponent to the left on a number of issues.
And on Wednesday afternoon at Trump Tower, the two candidates will cross-endorse each other.
"I'm honored to stand with Zephyr Teachout, who embodies independent progressive leadership. She challenged Andrew Cuomo four years ago and showed the world that establishment Democrats aren't just unpopular, but beatable in New York State," Nixon said in a statement to The Cut. "I'm looking forward to standing shoulder to shoulder with her and a whole slate of insurgent candidates on September 13th to prove New Yorkers are ready to return our state to its rightful place as a leader of the resistance and a beacon of progressive ideals."
"I support [Cynthia] as a matter of principal and have been supporting her since she began because we do not have to accept cynical old boy network politics in this state," Teachout told The Cut in a phone call. "It's especially important when Donald Trump is president — and is openly bigoted and lawless — to have a governor who is going to fight for the progressive New York that we can have in every way."
This dual endorsement hardly comes as a surprise: Teachout served as Nixon's campaign treasurer before leaving to join the AG race. It also comes in the midst of a wave of progressive, anti-establishment Democratic women candidates running for office in New York —Nixon, Teachout, Alexandria Ocasio-Cortez, Julia Salazar, to name a few — all of whom have visibly and vocally supported each other along the way.
Their location of choice is also obviously pointed. Along with fighting corporate monopolies and mass incarceration, one of Teachout's top priorities includes targeting Donald Trump and corruption at the federal level. (Teachout was part of a group of lawyers who sued Trump days after he took office.) Nixon has long been an outspoken critic of the President, and was recently directly slammed by the White House after she made remarks calling Immigration and Customs Enforcement a "terrorist organization."
"At this moment," Teachout added, "New York State should be the living counterexample to Donald Trump's America."