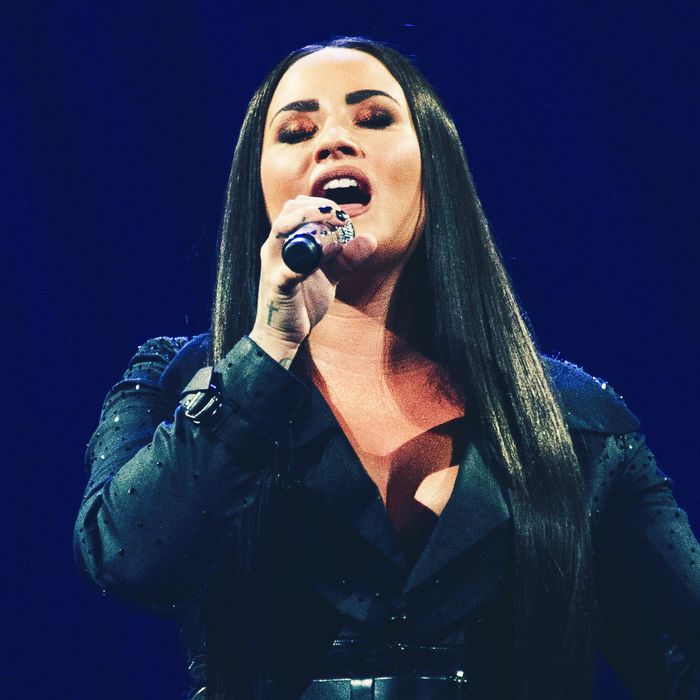 Demi Lovato.
Photo: Joseph Okpako/WireImage
Demi Lovato is currently undergoing "extensive" treatment following her apparent drug overdose — and will be in a rehab facility for "several months," E! News reports.
Lovato was discharged from a Los Angeles hospital last week. She had been rushed to the hospital on Tuesday, July 24, and subsequently suffered severe "complications" from her reported overdose. But while recovering, Lovato wrote in a recent Instagam post, "I now need time to focus on my sobriety and road to recovery. The love you all have shown me will never be forgotten and I look forward to the day where I can say I came out of this on the other side."
Here, everything we know about Lovato's suspected overdose. We will continually update this post as new information becomes available.
Lovato reportedly overdosed at her Hollywood Hills home.
The Los Angeles Police Department told People in a statement that they responded to a medical emergency at Lovato's Hollywood Hills home on Tuesday, July 24 just before noon. They would not confirm the identity of the patient, but a representative for the Los Angeles Fire Department said they "transported a 25-year-old female patient to a local hospital." TMZ reports that Lovato was unconscious when paramedics arrived.
Her friends revived her with Narcan, an emergency drug that can reverse narcotics overdoses.
Law-enforcement sources initially told TMZ that Lovato overdosed on heroin, though a source close to Lovato later stated that was not the case. The singer has been open about struggling with cocaine and Oxycontin abuse in the past, and was reportedly treated at the scene with Narcan, which is an emergency medication used to reverse an opioid overdose. Her "friends" reportedly administered the medication themselves to revive her.
She was reportedly on a "binger" with friends the night before — and they had "Narcan on hand" just in case.
A source told People that those close to Lovato had a "strong suspicion" something like this may end up happening. On Monday night, she was reportedly partying with friends at a birthday party in West Hollywood.
The insider said, "She and her 'friends' were on a binger the entire night. They keep Narcan on hand for such situations — they were prepared for this. The people she has been hanging around lately aren't her real friends — they don't have her best interests at heart. She's pushed her true friends away."
She had been suffering "complications" since entering the hospital.
TMZ reports Lovato's overdose was so "severe" that her life was in jeopardy. The singer reportedly suffered "complications" from the overdose, including a high fever and nausea.
Those closest to Lovato had been trying to keep her away from drugs.
People reports that Lovato "had to find creative and sneaky ways to get drugs" as her team and the people closest with her "really try to keep a close watch on her."
Lovato has been open about her battle with addiction.
Lovato has spoken extensively about her struggles with substance abuse, bipolar disorder, and eating disorders. She previously underwent treatment in 2011 but relapsed after leaving the treatment facility. Lovato then entered a sober-living facility for a year. The singer celebrated five years of sobriety last March.
However, in June, she released a new single, "Sober," in which she announced that she relapsed following six years of sobriety. She sings in the ballad, "Momma I'm so sorry I'm not sober anymore / And Daddy please forgive me for the drinks spilled on the floor / To the ones who never left me, we've been down this road before / I'm so sorry, I'm not sober."
She had reportedly been struggling in recent months.
According to People, Lovato had been going through a difficult time for a while. A "close source" told the magazine, "Things have been a total mess for months. She and her team severed ties, and they played a large part in getting her sober years ago. She hasn't been in a good place."
Lovato is reportedly heading back to rehab.
On Wednesday, a source told E! News, "This is obviously a huge wake-up call. Demi doesn't want to die and she's very grateful to be alive. She will be leaving the hospital and heading straight to rehab. Her family has been by her side supporting her and is getting her the help she needs."
She has received an outpouring of support from her celebrity friends.
Many of Lovato's celebrity friends have spoken out in support of the singer since news of her suspected overdose broke. Her ex-boyfriend Joe Jonas took to social media to share his support:
A number of other celebrities have posted messages about Lovato on social media as well:
Lovato posted to her Instagram for the first time since being hospitalized.
In her first public statement since her hospitalization, Lovato shared an Instagram post thanking fans for their love and support. The singer also thanked God, her team, her family, and the staff at Cedars-Sinai.
"I now need time to focus on my sobriety and road to recovery," she wrote in the post. "The love you all have shown me will never be forgotten and I look forward to the day where I can say I came out of this on the other side."
She reportedly left the hospital and is now in rehab.
TMZ reports that, as of Monday, Lovato has left the hospital and will be receiving treatment at a rehab facility for an "extended period of time." The facility is reportedly located outside of California — Lovato apparently took a private plane to get there — but is one of the country's foremost addiction treatment centers.
She will be in rehab for several months.
A source told E! News, "She will be in rehab for several months and is doing an extensive program to ensure she gets the help she needs." Lovato is also working with a specialist in Chicago, who focuses on sobriety, mental health, and wellness.
This post has been updated throughout.