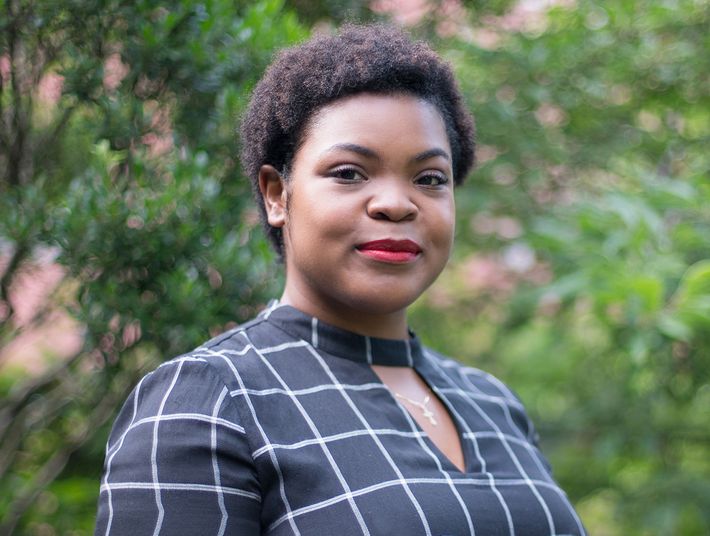 In creating the Design Beyond™ Fellowship, New York magazine teamed up with Delta Faucet® to hand-select four outstanding emerging interior designers to experience this one-of-a-kind opportunity. Over the course of the summer, these promising young professionals are participating in four exciting challenges relating to: industrial, eco, art-inspired, and tech-integrating design. Here, get to know the fellows' distinct personalities, style, and backgrounds in advance of the video series documenting the fellowship. (Look out for the videos as the challenges take place.)
Ajaee Shephard, 24
Los Angeles, California
Where are you from originally, and was design part of your upbringing there?
I'm from Springfield, Massachusetts, which I left right after high school to move to New York City. I always knew I wanted to go to school outside of Massachusetts, just to see what was out there. I'm the first designer in my family; I've always been the creative one. For me, I've always wanted to help others and cater to my own creative needs as well, and I think that's what interior design does. It allows me to help others while helping myself.
Where are you as a designer right now?
I graduated from college this past May from the New York School of Interior Design. I'm trying to get into real estate, so I just moved to California and am working for a funding company in L.A. My hopes are to become a developer, incorporating both interior design and real estate development.
What factors play out in your design approach?
I'm constantly defining my style. I'm definitely attracted to mid-century modern, but I always refer to the past, whether that be Bauhaus or art deco, and use those features to turn out something new. When you're designing someone's space, you're designing around their lifestyle. So there's a balance between a person's lifestyle and the functionality of the home when it comes to residential design.
Give us some insight into your long-term goals. What drives you as you move forward in your career?
I'm interested in being able to design mass spaces, like residential buildings, and I love showing people what that kind of space could be like in the future. When it comes to interior design, I think as a developer, so in a mass-production way. Ultimately, I would like to design my own spaces and potentially sell them.
What other parts of your life shape your creative approach?I'm also a writer. I have a small book called Lavender Bliss, only 70 pages of poetry, and it's basically about empowering women. I wanted to give it to my little sister, and I was like, "I can give this to all younger girls," too. That's where I get my inspiration—how I live and how I love my sister, and how we all can influence each other.
What are you proudest of as far as your recent work goes?
My thesis project from this last semester was a speakeasy-themed gentleman's grooming lounge. Like a social club, but it provides an upscale experience as a joint barbershop and spa. And it's going to be in the black community. The goal was to deconstruct societal standards and shift the perception of masculinity for men in society—to transcend what that means.
Is there one theme you're most excited out of the four challenges?
The art-themed challenge relates back to my thesis, as I incorporated art from major contemporary black artists in that design. I try to convey that art can really make your space come together, so that's what I'm looking forward to most.
How do you incorporate art into your personal life?
Keeping in touch with art is a devoted lifestyle. I go to museums. I seek out books. If there's a new art gallery, I'll go. One artist I'm into right now is from Ghana, and he makes these tapestries out of crushed metal—but they're actually made by a community of men. It's really unique and special because it brings people together to make a piece. How that feels in a space is very powerful.
This is paid content produced for an advertiser by New York Brand Studio. The editorial staff of The Cut did not play a role in its creation.