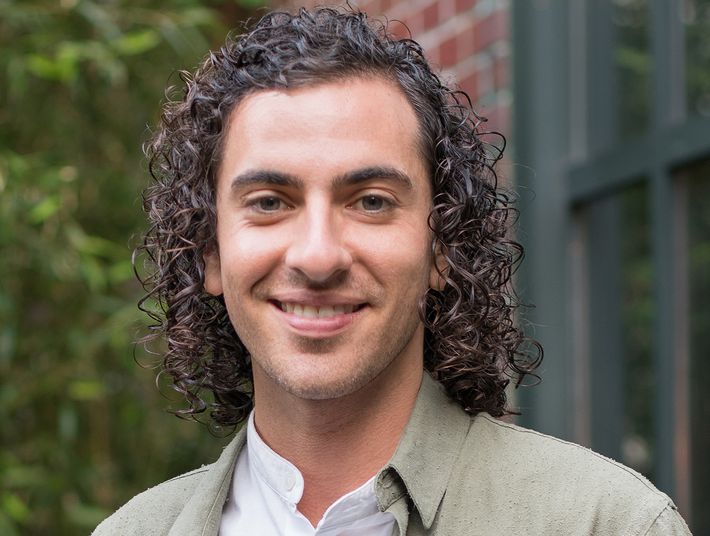 In creating the Design Beyond™ Fellowship, New York magazine teamed up with Delta Faucet® to hand-select four outstanding emerging interior designers to experience this one-of-a-kind opportunity. Over the course of the summer, these promising young professionals are participating in four exciting challenges relating to: industrial, eco, art-inspired, and tech-integrating design. Here, get to know the fellows' distinct personalities, style, and backgrounds in advance of the video series documenting the fellowship. (Look out for the videos as the challenges take place.)
Spencer Sight, 29
Kansas City, Missouri
How would you describe your design aesthetic?
Functional minimalism with a bohemian edge. Much of my inspiration comes from Scandinavian design, which has historically been influenced by the Japanese aesthetic—which is in turn rooted in nature.
Professionally, what are you up to currently?
My dad and I have recently acquired a building in the heart of the art district here in Kansas City called the Crossroads Art District. It's sort of an institution, and we're exploring redeveloping and bringing new life into it—taking this building built in the 1920s and adding another 100 years to it. So I'm using design on a macro scale. It's more urban design and figuring out how to find tenants who will take up space in the building and make it a viable urban destination.
How did your interest in design develop?
I studied graphic design at the University of Colorado for two years and realized I wasn't excited about staring at a computer for eight hours a day. So I followed my interests and intuition to Naropa University, which is a Buddhist-inspired school that focuses mainly on Eastern psychology. My focus there was in the Eastern arts, so anything from tai chi to this amazing watercolor class that totally changed the way I create. The most exciting class to me was ikebana, which is Japanese flower arranging. It's about being very intentional and minimal—you focus on the absence of space, which makes the centerpiece even more vibrant, because there's less there. It shifted the way I even thought about design.
How did that education propel you into your next chapter?
Once I graduated, I moved to Southeast Asia for two years. I sold my possessions, packed up, and bought a one-way ticket to Thailand. I traveled around Laos, Cambodia, and Myanmar before ending up in Vietnam, where I worked at an eco-lodge on a remote island. I spent six months there teaching tai chi and building an edible garden.
In what ways did your experiences abroad impact your creative outlook?
Through 30 different cities, I was consistently absorbing inspiration: from the textiles in Northern Vietnam, to touching the hemp that was grown down the street, to meeting the women who dyed the indigo and made garments out of it. In Ho Chi Minh City, I met this group of brilliant painters who were speaking out about their place as young Vietnamese people and expressing that through art. Then, I motorbiked up to Hanoi, Vietnam, over the course of 30 days. I encountered amazing expressions of intentional, slow design unlike anything that could be contrived or manufactured.
So how did you make the leap into home design?
Once I was back, I came upon my purpose out of desperation. I was staying at my parents' house and found a foreclosed house a couple miles away that was going to auction. It was falling apart. I used what savings I had to buy it, initially just as a place to live. I spent the next couple months fixing it up. I didn't have a history in construction—I just kind of figured out how to get things done. When it was coming to completion nine months later, I found another house a couple blocks away. I ended up selling the house I was in, making a profit, and folding it into this next house. I've done that five times, and each house is a canvas I get to have total creative control over.
What's your favorite part of the property-flipping process?
Construction was 90 percent of each project, but the whole time I was plotting how I was going to put the icing on the cake—how I was going to bring this property to life with color and texture, and ultimately stage it. It also gave me the opportunity to do what I would call "spatial design." I not only did the finishing, the furniture, the tile, and the paint, but also moving walls, and opening up ceilings, and exterior work. After years of absorbing all of this inspiration, this has been the ultimate way to express myself.
This is paid content produced for an advertiser by New York Brand Studio. The editorial staff of The Cut did not play a role in its creation.