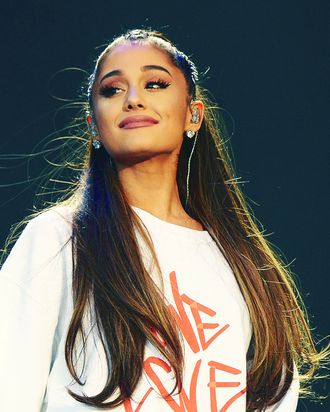 Ariana Grande.
Photo: Kevin Mazur/One Love Manchester/Getty Images for One Love Manche
When Ariana Grande responded "boo fucking hoo Alexa play Pete Davidson" to an Instagram user who slammed her then-unreleased song about her fiancé on Sweetener, Grande really meant that — and Alexa listened. On Friday morning, Amazon Music's Twitter account celebrated the release date of Grande's new album with a tweet in reference to the pop singer's exchange with her Instagram troll, serving as a reminder to all to never mess with Grande.
Before the Instagram user asserted they would never listen to Grande's ode to her fiancé ("Pete davidson will be the song i will skip all the time"), they accused her of cheating on her ex, Mac Miller, with Davidson. For some unknown reason, this specific person seemed to be peculiarly salty about Grande and Davidson's shotgun engagement, but the exchange, at first, seemed relatively insignificant. That is, until a company worth nearly $1 trillion seemingly revived the drama and publicly took Grande's side.
"Ariana Grande is taking over alexa all week!" reads a tweet from Amazon Music. "#JustAsk, 'Alexa, Play the Song of the Day' to check out some of her fave music. Up first, it's "pete davidson" off her new album #Sweetener."
Eagerly awaiting Jeff Bezos's tweet about the drama.