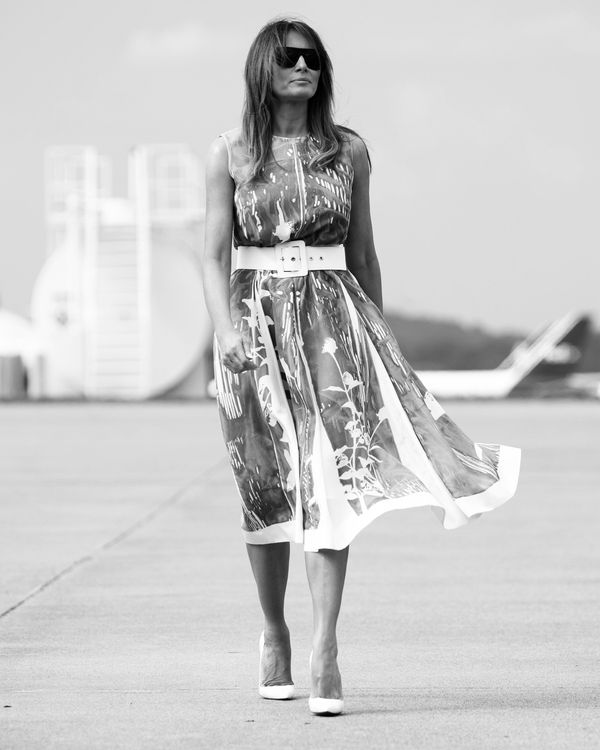 Melania Trump.
Photo: SAUL LOEB/AFP/Getty Images
After moving into the White House, President Donald Trump immediately started working on something (presumably) extremely important to him: he got rid of some of the West Wing décor selected by the Obamas, and added a ton of gold to the place. But it turns out Trump got rid of a bunch of nice, modern furniture pieces his wife, Melania, picked out as well.
As you'll likely recall, Melania didn't immediately move to the White House after her husband's inauguration; instead, she stayed in New York City for a few extra months until their son, Barron, finished the school year. Then she headed to Washington. But before the First Lady finally moved into her new (indescribable) home, she tried to help decorate the place. Per the New York Times:
Mrs. Trump, a former fashion model who prefers clean, modern lines, had chosen some furniture for the White House residence in the months before she joined her husband in Washington. Yet in her absence, President Trump — whose tastes veer toward the gilded, triumphal style of Louis XIV — replaced her choices with several pieces he liked better. 
The Times notes that a person "familiar" with the situation said it was merely "an example of Mr. Trump's tendency not to relent on even the smallest requests from his wife." Meanwhile, Melania's spokeswoman Stephanie Grisham told the Times that the furniture replacement was done by both the president and Melania. "They both chose the décor," she said.
Strange that anyone wouldn't jump at the chance to distance themselves from Trump's tacky gold interior-design taste.