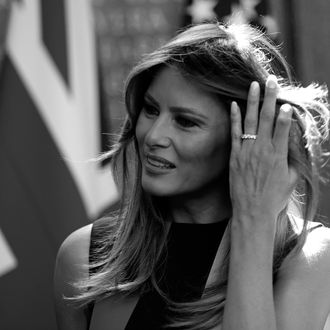 Melania Trump.
Photo: WPA Pool/Getty Images
Just one day after Melania Trump released a statement to follow up on Twitter comments that her husband made about LeBron James, she had to clarify that she didn't choose sides between the president of the United States and a professional basketball player.
The first lady voiced her support of LeBron James's work "to do good things on behalf of our next generation" in a statement that was released on Saturday, according to The Guardian. LeBron funded the creation of a school in his hometown of Akron, Ohio, that will provide a high quality, expense free education to children in the area.
"Just as she always has, the first lady encourages everyone to have an open dialogue about issues facing children today," continued Saturday's statement, referencing the first lady's "Be Best" campaign, which works with children on their "well-being, healthy living, and the importance of responsible online behavior."
Her press team then released another statement on Sunday, to make it clear that Melania didn't take LeBron's side in a public exchange of words that included Donald Trump insulting LeBron and Don Lemon over Twitter.
"That wasn't her taking sides — that was her office stick to what she is focused on, which is using Be Best for what it's intended — to help children," a White House source told ABC News.
Maybe Melania wasn't taking sides — though who could blame her if she did. If the first lady releasing a statement in support of a philanthropic education initiative sounds like it is in direct opposition to the president, it says more about the president than anyone else.