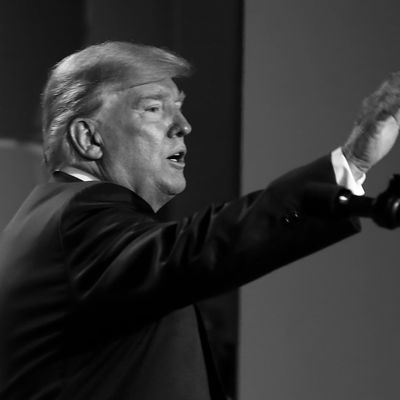 Donald Trump.
Photo: Sean Gallup/Getty Images
Trump has been gunning for a military parade ever since he watched the Bastille Day parade in France. It appears that he will finally get his very own parade, scheduled for November 10, except this parade is going to cost nearly $100 million.
A new report estimates that the show of imperial force will cost 666 percent more than originally estimated. A previous estimate for the cost of the president's parade was around $12 million — now it's projected to cost $92 million dollars.
According to CNBC the cost will cover, among other things, eight tanks and "other armored vehicles." Apparently, the trucks are so heavy that some experts are worried they will damage the infrastructure of Washington, D.C.
There hasn't been a military parade since 1991, after Operation Desert Storm, which celebrated the end of an actual military operation. ( The U.S. is currently fighting the war on terror in 39 percent of the world's countries.) The 1991 parade also cost $8 million, and was mostly paid for with private donations.
The news of the $92 million military parade, which seems to celebrating Trump's fascination with French president Emmanuel Macron and might ruin the streets of Washington, comes as Trump continues to cut funding for social programs.