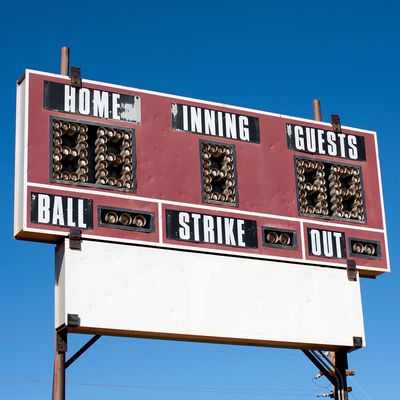 Photo: David Engelhardt/Getty Images/Tetra images RF
This morning I was struck with a terrible thought: I hadn't been to a baseball game yet this summer. The crack of the bat, strike one, strike two, you're out, hot dogs, a big beer, baseball cap, the mascot — all yet elusive to me, a woman who had ill-planned her warm-weather months and was now walking her dog in a Mets shirt, fraudulently. The thought was eased when I remembered that I had gone to a baseball game this summer. Oh, right. I went to opening day for the Brooklyn Cyclones. Oops.
Still, my point remains because my point is about you and not me. Please do not forget to go to a baseball game this summer. (It can be argued, anyway, that a single Brooklyn Cyclones game is not enough to satisfy a summer's baseball requirement. In my opinion I still have to go to at least two more Cyclones games or one Mets game to meet the minimum.) I'm begging you!
It doesn't matter that baseball as a sport is played essentially year-round, in a way that feels newly crazy every time you look up at the bar TV and realize baseball is still on even though you are at that moment counting down to the new year. The time to go watch a baseball game is: right now. Right now when you are not shivering and when, instead, you are begging for relief from the heat. (Or, better yet, earlier in the season, but there's nothing we can do about that now and we just have to accept it.)
Take a moment to visualize it now. Sitting in the stands, relaxing. You've just spent about $30 on a single large beer and a hot dog, but you almost don't care because your mood is light. The game is happening and you are watching it. You're rooting for your team, which should be the Mets, but I'm flexible on that point as long as it is not the Yankees. They're losing, which is something you love about them. The sun is shining and you're covered in sweat, condensation from the beer, and ketchup. You are not looking forward to the ride home but you are trying not to think about it. It is a lovely time.
Maybe you're thinking, "Well, I've already gone to a few baseball games this summer." Okay. Well, gooood for you. Maybe take a moment to consider the world is larger than you, and that there are some people out there who haven't yet gotten to experience any of the baseball-related joy you've experienced so far. Okay? Don't you want that joy for them? Selfish?
It would be a terrible thing for you to look back at your summer and realize you'd forgotten to go to a baseball game. Not worse than if you looked back on your summer and realized you hadn't gone to the beach, but it's in the vicinity. Please look at your calendar and find a weekend or weeknight activity you can skip go to a baseball game instead. And then buy tickets to a baseball game. It will be nice.