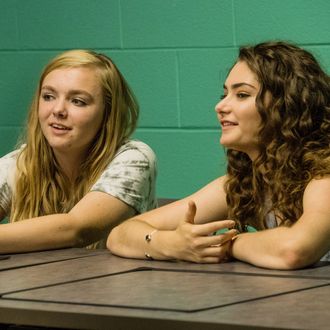 Eighth Grade
.
Photo: Linda Kallerus
For one night only, 13-year-olds can see an R-rated movie in theaters without their parents, thanks to the distributor of Eighth Grade, which is showing free screenings of the film for teens across the country.
A24 announced that a select number of movie theaters will screen the movie with no ratings enforced tonight, so teens will be able to contemplate the film's unsettling #MeToo scene, judge the protagonist's hair part, and laugh at the occasional "F" word among friends — not mom and dad. Because A24 is only showing the movie in one theater per state, though, tickets are limited, and are available for pick-up one hour before the film. (California is the only exception, as there are screenings in both San Francisco and Los Angeles.)
For a list of locations, head to the movie's website.